TS2 photo & diary documentary! Click to see what's going on in Simmerville right now!


The following resident listings are updated simdaily:



Official Household Index:
Simmerville | Simmerville map | Downtown


Yellow Pages (business index)

Sim Finder - search for a Sim

Genealogy - Family Trees

Graduates - Sim State University

Residents grouped by career & community score

High & Low in Simmerville (best/worst & stats)


It's currently local simday .One simday equals to 15-30 human days. We are currently living the Age of Seasons. This period started on our local simday 76 and will close on simday 90. To look up anything regarding the administration or family notes of our past, please check out the Hood Notes.



Age of Changes (simday 91-)
Age of Seasons (simday 76-90)
Age of Pets (simday 61-75)
Age of Business (simday 46-60)
Age of Pleasure (simday 31-45)
Age of Knowledge (simday 16-30)
Age of Modern Times (simday 1-15)



Simmerville Hood Administration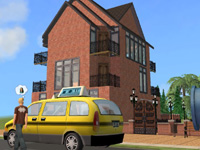 The Hood Administration Center is located at 5 Old Simmer Lane and includes a reception desk, a section for wedding ceremonies, special event rooms including a buffet table, auditorium for speeches, and offices to be used by the Hood Council. Our Spokes Sim holds the deed and can always be found on location.

Click to visit the Hood Administration Center



Hood Council meeting minutes including Hood Calendar



Simmerville Laws


| | |
| --- | --- |
| | For each Age the top 5 Advisors form a new Hood Council. Advisors are ranked by community score and the top Advisor becomes our Spokes Sim and leader. The Advisor's careers will affect the Council's priorities. |

BUSINESS + Spokes Sim (488 points)
Local trades and stores, home businesses, import
Advisor: Marylena H. Gobelin - public notes

MILITARY (350 points)
Local infrastructure, security, secret operations.
Advisor: Bross Mervil - public notes

EDUCATION (310 points)
L...htlife.
Advisor: Hurla L. Stello - public notes

CULINARY (252 points)
Local farming & fishing, restaurants.
Advisor: 0 Gobelin - public notes

HOME BUSINESSES (203 points)
L...fe.
Advisor: Jorgel Stello - public notes