Recreate a Simmervillian (4 of 5)
July 22, 2004 - by Claire Brybrey

This Summer you are welcome to recreate 5 Simmervillians. Based on interview, private photos and the sim's thoughts about our future, your local Body Shop clinic can now recreate Mrs Ursull S. Swims!

Here is baby expert Ursull Swims, ready for recreation by your local Body Shop clinic! Please check this project's main page for details, deadlines, rules and links to the other 4 Simmervillians. On this page you can read about Mrs Swims before you recreate her image.
---
URSULL S. SWIMS PICKED THESE 3 RECREATIONS
VOTING OPENS AUGUST 15th



---
4. Ursull S. Swims (46)
Ursull S. Swims is one of Simmerville's most profiled residents after she opened the web site's baby section. Mrs Swims works as a specialist at the SimCity Children Hospital, and she also do some baby research at her home office. A member of Sims Science since many years.
Skin tone: Dark
Size: Small
Hair: Red
Eyes: Brown
Aspiration: Knowledge
Personality: Energetic.
Astrology: Aries


Background
Ursull was born 46 years ago at Hitch Heights (Appleton district). Her parents, who both are still living there, are Squibb Splash and Blurly Castrale. She has one younger sister, Fiona. Her sister married a boy at Hitch Heights, while Ursull was curious to life and moved away. She spent many years studying in SimCity, before she met her 8 years younger husband from Rusterwood (Appleton).
Ursull S. Swims: Back then I was so done with studies, Crawl and I travelled nation wide and moved 7 times for about 10 years. No children back then, not until we decided to buy a lot in Simmerville.


Family
Ursull is today married with Crawl G. Swims, who works as a Mountain Climber. First they adopted a girl (Mathilda) and a boy (Blubb), later on they had two more girls (Squirly and Butterfly). A few years ago they moved to another Simmerville address. They also have a dog named Brask.
Ursull S. Swims: I want more children, but I realize I might be too old. And the oldest, Mathilda, will soon become a teenager, so the family will meet new challenges. Besides, I also look forward to more time for my projects which would be more difficult with a fifth child in the house.


Interests
Mrs Ursull Swims loves babies, that's a well known fact. But she is also interested in science, finances and technology (related to medicine, mostly). She loves playing chess with the children. After all those years with moving, she doesn't want to spend more time on travels.
Ursull S. Swims: I guess every couple has got some conflicting interests, Crawl still loves travels and the outdoors, and he wants us to go on vacation. Well, he gets some of his needs satisfied through his job.


Favourites
For fun Mrs Swims likes to talk with her children, encourrage her daughter Squirly playing the piano, or to play chess with any of the children. She is a private sim, meaning she hardly goes downtown except for a better dinner occasionally.
Ursull S. Swims: Some of my best moments are when I can spend the day in my home office, studying the baby research reports.


Thoughts on the future
The future is naturally interesting to a scientist. In particular Mrs Swims looks forward to learn about how babyhood will change.
Ursull S. Swims: All I can say is "phew"! The changes are so much bigger than any living Sim can understand. I mean, this is great! It will be written in the history books! It will affect modern medicine, it will change our way of living, our family ties, or intellect! I mean - it's really too much, even to a scientist!


Photos
Click on these private photos to view the larger versions.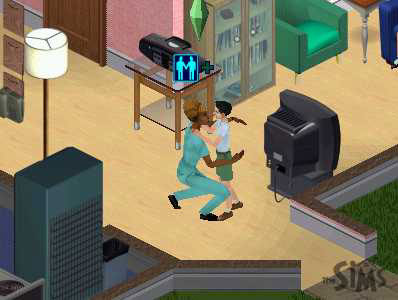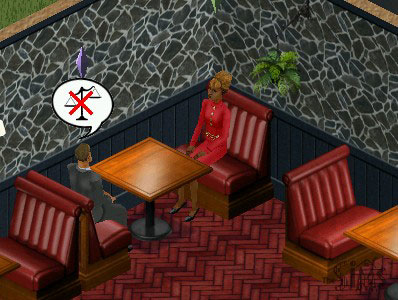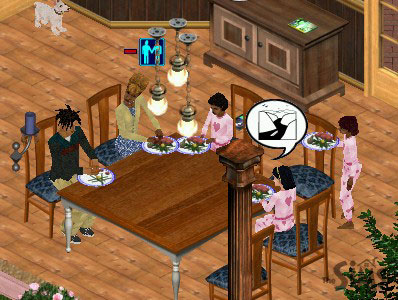 Links
Mazaloom History Book
INDEX: Swims, Ursull
Moving with children
June 9, 2003, by Ursull Splash Swims
What shall the baby be named?
March 19, 2003, by Ursull Splash Swims

Losing your baby to Social Services
November 9, 2002, by Ursull Splash Swims

Finally: A personal note from Ursull S. Swims