Recreate a Simmervillian (5 of 5)
July 22, 2004 - by Claire Brybrey

This Summer you are welcome to recreate 5 Simmervillians. Based on interview, private photos and the sim's thoughts about our future, your local Body Shop clinic can now recreate Simmerville's websimtress, Ms Bimbo NL!

Here is websimtress Bimbo NL, ready for recreation by your local Body Shop clinic! Please check this project's main page for details, deadlines, rules and links to the other 4 Simmervillians. On this page you can read about Bimbo NL before you recreate her image.
---
BIMBO NL PICKED THESE 3 RECREATIONS
VOTING OPENS AUGUST 15th

---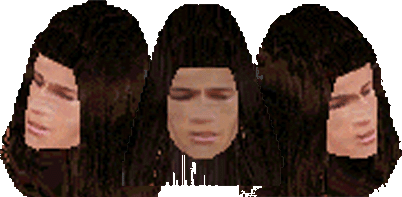 5. Bimbo NL (30)
Simmerville's websimtress, Bimbo NL, shouldn't need much of a presentation. She is known as young, trendy, cool and popular. But of course she has got other interests, too.
Skin tone: Light
Size: Medium
Hair: Black
Eyes: Blue
Aspiration: Popularity
Personality: Intellectual.
Astrology: Libra


Background
Bimbo NL didn't grow up in Simmerville, she was born in Rosewood (Cave district). Both parents, Samton Nobrain and Claira Ramsey, are still living there. Her older sister Samantha also lives in Rosewood. At young age Bimbo moved to SimCity to study justice, and when graduated she moved to share a house with another ex-student, Jim S. Loveless. She started a Law career and worked as Lieutenant when she decided to switch to Journalism some years ago. She now works as paparazzi and websimtress.
Bimbo NL: Yo! I never regret that I moved to Simmerville, being the websimtress makes me meet a lot of interesting sims both locally and via mail. That's too cool!


Family
Bimbo NL lives with Jim Loveless, they are just friends and go well together. She is single while Jim has been dating a few women. No kids, of course, and no petseither.
Bimbo NL: I wouldn't find it cool to find pet poodles on the floor, right. Okey, our Maid would have fixed it, but... no! Anyway, I don't think a pet wouled like to live here, my home is too trendy. Music too cool and loud.


Interests
Bimbo NL loves anything that is trendy, being fashion, style, music, theories from the 60's, as well as parties. She often give parties at home. she can't stand the outdoors, and sport is totally not interesting. So is food, but sushi and etnic fast food is ok.
Bimbo NL: I guess you become a result of both your interests and your friends' interests. I know mostly the jet-set sims of the area, so it's a natural thing they influence on me.


Favourites
There are three typical activities that will bring Bimbo NL in a better mood; listening to latino music, hanging out at Café Cornell (downtown hang out for trendy sims), or to relax with good friends in the hottub at home.
Bimbo NL: You could say that if I could sit in a hottub and listen to latino at Café Cornell together with a few celebs... hah, u know how cool that would be!


Thoughts on the future
The trendy woman hasn't had much time to reflect on the future yet. She admits that she has been thinking of finding a good guy and settle down before she gets too old, but she hesitates letting go off all those parties.
Bimbo NL: I'm used to not aging, so it's hard to understand that bit. In general I've been too busy writing articles and right now I'm revamping the entire Simmerville site (it's gonna rock!) that there isn't much time left for the future. But a boyfriend, uhm yeah... next on my to-do list...


Photos
Click on these private photos to view the larger versions.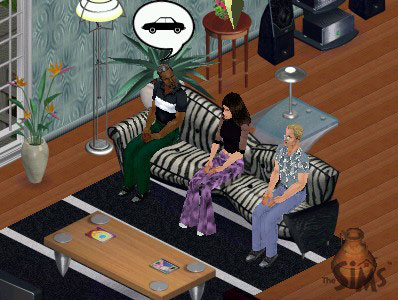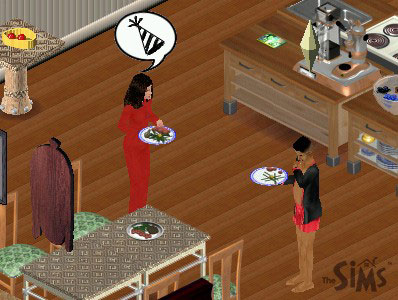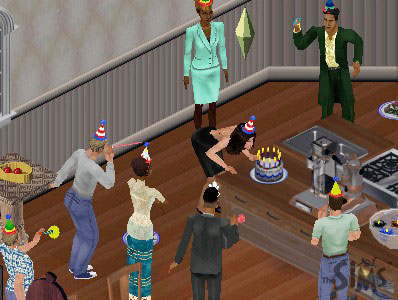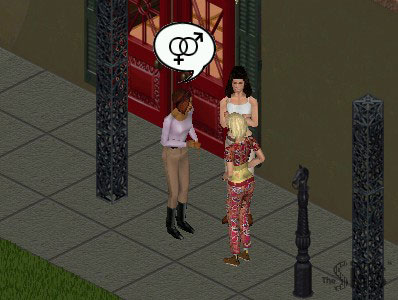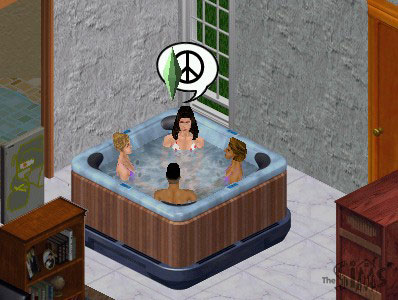 Links
Mazaloom History Book
INDEX: Loveless, Bimbo
Ms Websimtress meets Ms Greatest Fan
February 26, 2004, by Bimbo NL
Studio Town - the Superstar factory
May 9, 2003, by Bimbo NL
Jet-Set-Sims
February 21, 2002, by Bimbo NL

Finally: A personal note from Bimbo NL