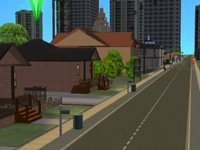 Grease Avenue, SimCity
Zone: Shopping
City Tax: medium (§100/simday)
Child friendly: medium
Parks & Services: medium
Pollution: medium

Grease Avenue is one of Downtown's longest, leading all the way from the Power Plant at westside Clutter Bvd, passing the Sculpture Park, and continuing very far east. If you love the city, this is it! This is where you find most of the sim owned shops and where the middle class lives in their apartments with small backyards. A mix of community lots and residential lots with a home business shop, but no residential only lots. The brick stone builds often have businesses on 1st floor and apartments on 2nd and 3rd floor.

Especially the blocks near Clutter Bvd will be the future shopping street of a pulsing SimCity district. Clutter Bvd and Grease Ave have a lot in common, but Grease Avenue offers a slightly nicer environment with the squares and outdoor cafés etc.