The mood is rising in the SimLOOK house as they all will be set free in only 5 days!


Sonia and Rita are not best friends.



Agnes and John in the FUN room. Is Agnes up to something while Sonia is upstairs?



Well, John is upstairs too. Sonia likes him so much that he doesn't need to leave the room just because she uses the toilet.



Rita surprised everyone by undress - fully. The others pretend not noticing, and Quentin started to talk about the rain they miss so much.



You idiot!!! Arthur is getting insulted by Sonia - but what did he do except nothing?



Voila! Ms Rita is taking a swim! Will she make it to the edge of the pool and all the way back to the ladder without drinking gallons of water?


Quentin, John and Agnes are conversing on the terrace. What a beautiful Evening.



It's midnight and Sonia runs into Arthur again - Shame on you!!! She insults him again, he has no idea what he did wrong.



Then - the next we know is that Sonia is gone, and Arthur is on the floor! Did she knock him down, or was he just too tired to stand on his feet?



Downstairs the next morning the atmosphere is friendlier, Arthur eats with Rita, Quentin and John...



...while Sonia sleeps upstairs, dreaming about John.



Shortly after Sonia and John are observed alone in the dining room!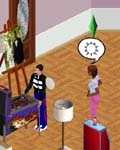 And then - John plays games with Agnes in the FUN room. You should make up your mind, John!

A full view of the SoimLOOK house's ground floor. Can you see the repoman in there?
It's very late, but Arthur and Rasputiz have a different sleep routine than the others. Arthur cooking, and Rasputiz just had dinner.

It's Rasputiz' IN THE SPOT day, he starts out eating a solid breakfast together with Sonia, Arthur and some glowing red bills.



Look who's cleaning the dining table!


And Arthur wearing his aerodynamic swim wear, cleaning the aquarium - will he restock the dead fish, too?



Rasputiz is complimented by Arthur. Maybe he said - You look like a fish, Rasputiz!



Did Rasputiz swim on the bathroom floor? Any way, the fun is over...



A pretty short day IN THE SPOT! Rasputiz going to bed mid day...



How are Sonia and John doing today? We found them playing chess in the library.



Rasputiz and Arthur having a very late dinner.



There's a queue in the kitchen, Rita is blocking the refrigerator, can't she make up her mind? Have breakfast or Serve breakfast?


Well, guess what Agnes and John talk about? The weather of course...



John has a feeling he is the most popular guy in the house, in just one day he might move into a house in Simmerville together with either Sonia or Agnes.



In the bathroom Agnes and Sonia seem to be fighting over John! Arthur and Quentin are watching.


Well, as soon as the guys left, it turns out Agnes and Sonia are not that bad acquainted after all.



After the back rub Sonia got reenergized, and she might have felt it natural to run downstairs to insult poor Rita, or?



It's the last day in the SimLOOK house! Arthur and John are dancing in the FUN room!



Then Arthur gives John a nice green gift.



In the kitchen Quentin has got some problems with the sink. Well, who cares... last day... will eat burgers tomorrow... somewhere else...


John has already made a surprisingly good relation with Arthur, Agnes and Sonia can't believe the rumour.



It's getting closer to project end. Most of them gather in the dining room.



Has Sonia decided to give it a final try? Agnes is heading for the TV, while...



... Sonia and John take a swim together. Will there be time enough?


- I miss a garden and a cat, Rita complains, but Quentin should know that Rita will probably find a little country side house and a chess table.


- It's over? Already 50 days? But what happened? Rasputiz looks confused. You will find all the reports on the web, Rasputiz - on that computer! - Ah, great! And then he applauds!