"By counting the
Llamas, you will know
how many they are."
Mr. McStosticks, ex-member

Most of our articles will be published under the KNOWLEDGE section at Simmerville web.

You can contact us here.

NEWS:

Simday 87 / July 5, 2008:
Sims Science currently prepare a new nation wide survey in order to learn about how male and femal Sims share the daily household duties. Check back soon to participate, no matter where you live!

August 30, 2007:
Simmerville hood is buying back the local Medical Center, and local medicians and scientists are hired to focus on health and knowledge.

For further news, please check the Medical Center page. We operate the Medical Center in Simmerville.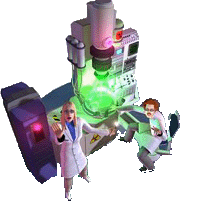 Do you work with science and like to explore our existence? Sims Science will no longer have a core group, but devoted Sims will be listed here - you don't need to live in Simmerville.

Send the following details to us:

Name
Neighbourhood
Profession
Special interest/field
A very short bio if you like

Sims Science
Sims Science is a group of 5 independent scientists. When we share our knowledge we learn twice as much! We are Sims working in the science and medicine tracks. We run joint projects where at least a couple of our members contribute. Our projects and researches will hopefully add to your knowledge about life and community. Ongoing projects and published results will be posted on this page.


Ongoing projects:

Males vs. Females (TS2)


*** Coming July 2008! ***


Closed projects:

Right or Wrong (TS2)


This project is closed. We received too few reports to work further with the material, but we like to thank those of you who contributed. The "Right or Wrong" project can still be downloaded. The house was rated high at thesims2.com and will be available for some longer. Reports should not be sent in though.

Get instructions - Get project pack - Discuss here

You need to download the project house, containing newly married Loucille & Anthon Flemming and their newborn baby, Claira. The project focuses on Claira Flemming and lasts until this Sim dies of old age. We like to find out how her everyday living from birth to death will affect the length of a her life. This is not about the extremes (aspiration and basic needs should be met), but the minor issues like food, activity, social relations, career and family. You will decide whether Claira's middlename should be Right or Wrong.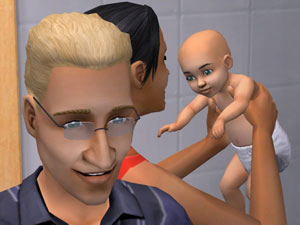 You are free to run the project pretty much as you like, within a few restrictions and guidelines. The house can be integrated with any existing hood and its residents. Claira can even marry one of your locals as long as she never moves out from the project house (going to University is allowed). The house is small with 4 bedrooms, but it will be possible for Claira to live there even when a daughter or son takes over the house. The house has no hacks (never downloaded any hacks). It's built on the smallest lot to make it easier for you to find a free spot for it. See photo below.
This time the reporting is limited to just one report after your Claira Flemming is dead of old age. A list of questions to be answered is included with the instructions. You don't need to sign up for the "Right or Wrong" project, but there will soon be a bbs for discussions, and you must read the instructions before you welcome the Flemming family.

Duration: March-June 2005
Contact: expired



Local History Project
SIMMERVILLE FAMILIES HISTORY BOOK
Find relatives. Scroll generations. Check out our new database to read about the Simmervillian families. More information to be added monthly! The scripts are being redone, some fixes on the way...
MAZALOOM HISTORICAL SOCIETY


SimLOOK2 (TS2)


The new SimLOOK project has closed!

THIS PROJECT PACK IS STILL AVAILABLE AT THESIMS.COM EXCHANGE

Benjamin, Charles, Rizza and Annabella used to be well acquainted until something happened on their first night in the SimLOOK2 house! When you start observing them they will do their best to hide their secret. Your challenge is to find out what happened! The answer will hopefully be found through a little research and by observing the four Sims acting by free will during 10 simdays. This is a serious task suitable for scientists and detectives who won't get too easily involved emotionally. There will be more suffering in the SimLOOK2 house! No directions can be given no matter what!

Please click the banner to access the SimLOOK2 project's webpage.

Duration: December 2004 - January 2005 (there might be a following up with 10 more days)
Contact: expired



My Transformation Diary (TS2)




Earlier this year 5 female Simmervillians were the first to be recreated (see below). Now they will write a daily diary as they transform into the new world! Together with diaries from other Sims living elsewhere, we hope to state how Sims are experiencing the transformation to TS2. Will your diary be included, too? Check out the diary menu at the project's main page.
Duration: September 15 - November 30, 2004
Contact: expired



Recreate 5 Simmervillians




Your local Body Shop clinic can recreate five of the Sims currently living in Simmerville! Check out the details at the project's main page.
Duration: June 10 - September 10, 2004
Contact: expired



AstroLOVE (TS1)
-- 5 DAYS TO GO - WHAT WILL WE LEARN? --
This is the Sims Astrology project where YOU can be the scientist! Click button for latest reports, testsims' profiles, forum, polls and mini contests!


The AstroLOVE project tries to find out whether Sims builds relations according to Simmish Astrology.
Duration: November 2003 - August 10, 2004
Contact:expired



Future
We also cooperate with clairvoyant Ms Macastral about the Simmish Prophecy.
Duration: January - December, 2004
Contact: expired


SimLOOK (TS1)
How will 8 Sims manage in 1 house for 50 days by following their free will? What will their relations be like on Day50? The project has closed but reports are still available here.
Duration: November 2003 - March 2004
Contact: expired