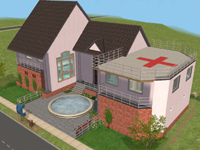 Opening hours: Mon-Tue-Wed-Thu-Fri 9AM-5PM
Entrance fee: cheap

This is the heart of Simmerville's medicine, science and welfare. Stop by to discuss your health! The Medical Center provides 2 resting rooms with a total capacity of 4 patients. Hospital cafeteria, Medical Lab, Gym, Sauna, Massage.

The Medical Center is based on ideas by late specialist and baby expert, Mrs Ursull Swims, who was the first local to focus widely on health. During the age of Education (simdays 16-30), Simmerville's Medical Center was built, and managed by Ursull Swims' daughter, Mathilda Swims.

Details and DOWNLOAD here.

Recent articles:
Simday 77, August 30, 2007 | Project: Watch Them Eat!