We plan to add more breeds little by little, starting out with the breeds that are currently most popular in Simmerville. You are welcome to request a breed (CAP breeds only).

Help us getting it all right:
Skilled pet lovers are also welcome to suggest adjustments to the breeds descriptions. Don't hesitate to contact us!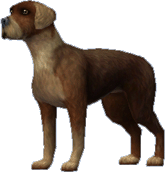 Simmerville Pet Club's Breeds Catalogue
Large Dogs



CATS | SMALL DOGS | LARGE DOGS | SEARCH





Disclaimer: Pictures are taken from TheSims2 CAP and catalogue descriptions are based on information found at Next Day Pets, The Cat Fanciers' Association and the Pet Trainer newsletter.