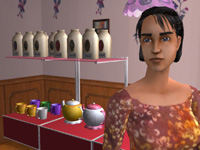 Chelle's Tea House

Opening hours: Wed-Thu-Fri-Sat-Sun: 9AM to 5PM
Entrance fee: No

I sell teapots, mugs, and of course bags of various tea flavours. They are the perfect gifts. Every day at noon I serve homebaked cakes, tea and coffee. Sit down to relax and discuss the latest hood news. Welcome to my Tea House!


News:
Simday 75: My mother's Lawyer's Bookstore is closed. Welcome to brand new Chelle's Tea House!