X-mas special: A beautiful Christmas home

Is your home prepared for Christmas? A few decorations really make a difference. Our guest writer, Anne Briggon, gives you some shopping advice.

Being a house wife by heart, it was a dream come through when I was allowed to go through all the Christmas decoration items that Simmerville community has gathered over the years, in order to recommend a few.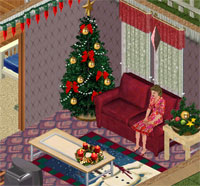 In this community the items have been packed in a so called folder, and the Christmas folder has been added to the regional catalogue only for the season. It's now the 3rd year that simmervillians experience the joy of picking from this huge assortment.
Those who know me shouldn't be surprised that Christmas is one of my favourite seasons, mainly because it includes loads of cleaning and decorating, and I simply love both! Lock me into a filthy bathroom and it will take me days to even recognize that I'm locked in! Well, I was not supposed to tell you about my cleaning routine, but decorations.
The minimal Christmas doesn't exist!
I'm not a huge fan of minimalism, but some sims are. If you are that kind of sim, you might not fill your home up with seasonal decor, or you might want a very few, but essential Christmas items in your home. A tree is a must, but you might like a different tree, a small one that can be put on a table, or even a wall decoration lamp imitating a tree.
I think the best choice is to have both! Why go by any restrictions? You can be a minimalist the rest of the year!
The only limit I can think of is your budget. Most houses will get a fair Christmas feel from a §1000 budget. If you are wealthy you might want to spend a lot more. If you are on a tight budget, remember that many seasonal items do fall in value very quickly. A three might be worth nothing after a couple days. Most of what you spend on decorations will not be refunded when you remove the stuff. Keep that in mind.
The walls
I would recommend a 3 step shopping and decoration strategy. Firstly, you should decide whether you like to repaint or add new wall paper for the season. This will surely add a lot, perhaps too much to some. The good thing is that you can find a seasonal wall paper that match your existing wall, and then putting Christmas walls on parts of the room only. Mix and match!
A good thing about Christmas wall papers is that you will need fewer other decorations, something that might be good to your budget or if you have a small home (like I do). Whatever you do, you should avoid seasonal walls in all rooms, because you will need a break occasionally.
The indoor decorations
2nd step would be to find regular decorations and to decide how much you want. If you are like me, you will put some cosy decoration on every available surface. A rug in each room! Others might like just a few items. Others might add just a couple items to show they know what time of year it is.
Both ways are fine, but there are some things you should not exclude; the Christmas tree, some Christmas lights, and the Christmas Calendar if you have children. Other elementary items might be a fire place, the mistletoe and seasonal food.
Remember to add decorations to other rooms than just the living room! How about a small Christmas greeting in each bedroom? A picture above the beds, a rug or a lamp? Most sims find it extremely cosy to wake up to Christmas decorations, I think.
The outdoors decorations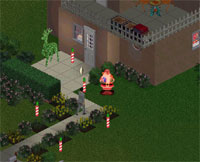 A family home is not completely decorated until you place some Christmas lamps or decorations at the front door or along the path. There are outdoor arrangements, snowmen, Santa clause statues, scrubs and trees with lamps on. The only restriction is how big is your pathway.
Remember that decorating your front yard also means decorating the neighbourhood! Bypassing neighbours will see it, you will even contribute to the bus driver's Christmas mood! Everyone deserves some Christmas, and you can contribute! It is actually your contribution to world peace!
Merry Christmas!
Anne Briggon