Summer memories
October 23, 2003 - by Johanna Grumblin

Food Expo 2003 belongs to the past, but it definitely has affected our future! All Summer sims shared food interest and knowledge, cooking clubs were founded, and this Autumn new exciting equipment is being offered! Check out this illustrated look at the past and the future!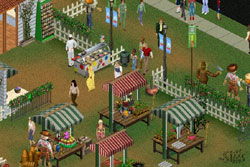 Oh dear! It was such a hectic Summer! June, July and August all packed with interesting sims, exciting events and a great new attitude to food! When Simmerville was given the honour of co-ordinating this year's Expo, my hubby Steve smiled and said "See you in September, Johanna!". *Shrug*, he knew how this event would take all my energy. Knowing that hundreds of sims all over Sim City got an eye for my number one interest - food- was definitely worth it!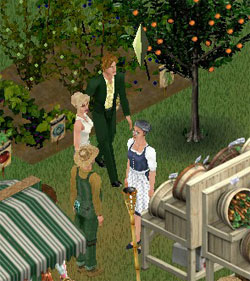 Oh, excuse me. I'm not trying to take all the credits here. Those knowing me would have been shocked if I so did, *shrug*. What made the Expo so special was the contributions from a lot of hoods out there wanting to co-host the event, and even from sims not living in co-hosting hoods but still very interested in food and kitchen routine. The co-hosts were Sunnydale, El Prado, Greymount, Simston Estates, Lake Town and Arcadia. They all did a splendid job! All co-hosts' contacts just earned a framed diploma which will be their memory on the wall for a long time.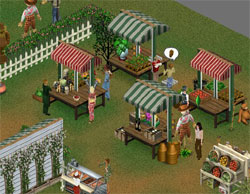 A big thank you to all co-hosts, to individual sims who contributed with lectures, ideas and comments. There are 3 sims I would like to thank especially. They are Aggie McCoy (El Prado) who contributed with related items for all the 3 themes and is involved with the famous Ine's Bakery. Starr Grey (Greymount) for publicizing the great Food Expo section of their community website with several interesting articles by devoted local residents like the interior designer Prisilla Lake and others. Isabelle Ashfield for contributing with several lectures and for founding Sim Parade Cooking Club.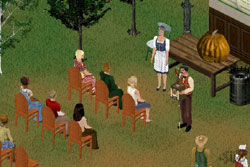 All over Sim City there were given lectures like "Kitchen Accessories", "Let's get cooking!", "The Best Food Fulfilment Combination", "Feeding guests", "Where Does My Fork Go? Dining Etiquette for Sims", to mention a few. We know that many hoods got local food clubs or cooking associations this Summer, and I have received lots of e-mail telling me that such events are much wanted.
I was happy to attend one of the co-hosts' opening event, over in El Prado. Here is a photo and a report by Aggie McCoy:
"I'm sending this picture. Here we are Mrs Johanna Grumblin and me talking, while some of my neighbors work on the market stands and other just take a look around. We will make the official inauguration on June 1st as everyone else, but we decided to start working in the market as soon as everything is getting ready. I am the organizer here and I can say everyone's working hard, even the children are helping with all they can. Not many taylors here I'm afraid, and they got a little dissapointed when they found out there won't be a Vegetable Carnival here, at least not the same day as in the other neighborhoods. I let them know that surely the other kids will be happy to share their costumes with them later.
I'm trying to prepare a lecture for tomorrow but I'm so tired I don't know if I would be inspired enough. I asked William (the local librarian) "Will, will you write something?" After a few seconds he finally figured out what was I talking about (don't know what took him so long though) and I think he might come up with something."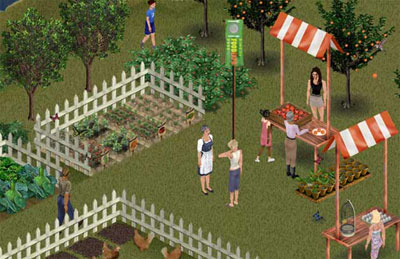 To many sims eating was a daily ritual that they paid no attention to. Now a lot of those sims are growing their own vegetables and eating different food. Some even redecorated their kitchen. And with the great news from SimCity Food Association, this Autumn will bring several new and exciting kitchen activities! Baking bread, pies and cakes is only one of them! See you at the Food Expo 2004 in your neighbourhood!

---

#1 photo:
Guests flocking to Simmerville's Mervil Market for the Food Expo 2003 opening.
#2 photo:
Special guests for the opening were Aggie McCoy (co-host) and Mr. Martin (Simmerset, formerly head of SUN Family Exchange).
#3 photo:
A few Simmerville celebrities observed at the opening; Mrs Swims talking with Mr Ballong, Mrs Valentino (in front), Ms Loveless and Mrs Hanssen (BB-design). The blond woman wearing red/yellow is special guest Mr Martin's wife.
#4 photo:
I'm giving an opening speech and a local musician is entertaining the audience.
#5 photo:
From the El Prado opening, June 1st.