My typical day: Julia Valentino
August 22, 2003 - by Bimbo N. Loveless

All Simmerville residents know her by now, our spokes sim Julia Valentino. But do you know her correct name? And do you know what her typical day is like? Artists are welcome to match her day with suitable items!

The "My typical day" series is facing a twist! The interviews will now be posted without the contributions from a few local artists, but instead artists all over Sim Nation are welcome to send in any item they think would match with the interviewed sim's lifestyle and tastes, based on the interview. Artists sharing their work will be allowed to post their favourite link, and we do also pay §250 per item that is publicized!

Your neighbour can be featured next!
Upcoming "My typical day" articles might feature a sim from your neighbourhood! Go to the TREND main page to suggest a sim for a future article.


In this article you will meet Mrs Julia Valentino, a busy business woman who is well known in Simmerville where she lives. Being Simmerville's spokes sim many residents might like to know her better. Did you know that her correct name is not Julia Valentino, or that she is featured in Simmerville web's top banner on every single page as the sim playing with the VR game in front of a piano? She received a list with 10 questions and after some mailing the text was approved:

---
My introduction - brief background
My name is Julia Valentino, and I'm 28 years old. I'm a Libra, and my husband and work colleges would describe me as rather social and not so neat, but I always hired a Maid or left my housekeeping to my husband, Rudo, so that was never a problem. What most neighbours don't know is that my correct name is actually Juliana, but due to a mistake at the SimCity Name Registry, my record has yet not been adjusted. I'm still working on this. It is frustrating not to use your correct name, especially when you become a public sim.
I'm not originally from Simmerville, but I've been living here since I married my Rudo, 6 years ago. We spent 1 year away, but returned to the same house 1 year ago.
My house, garden and interior
We do live in 8 Simmer Lane of Simmerville, in a 2 story house quite large and very well equipped. Many of our guests do get carried away when they see our large art collection in the dining room. We have collected some sculptures for the past 5 years, and we also like some nice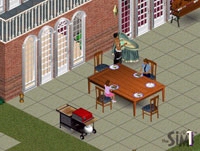 paintings. They can of course be seen as financial investments which is a way of securing the next generation economically, but we also think the collection adds greatly to the rooms.
My family
Rudo and I have two daughters, Belinda (10) and Sue (9). They are very nice girls, clever at school and seems to be as intellectual as their mother. They also got a dog named Tobbietoo, but well, Rudo seems to be more occupied with the dog than the girls are. Personally I don't really like animals. Because of my important career I don't see my family very often, and the fact that I now am Simmerville's spokes sim with a foot in the SUN Core Group as well, makes my typical day even more busy. All these duties take up a lot of my time. But I make sure to share at least one meal with my family every day.
My typical morning
I am fortunate to have a kind husband who understands how important it is for me to give highest priority to my work. In the mornings I will sleep as long as possible while Rudo goes downstairs to prepare breakfast to me and our daughters. Then I get up, get dressed in a smart office outfit, heads downstairs and then run off for the car pool. To me the mornings are just the beginning of another day. It's like on any sports arena when the runners get ready at their starting blocks, there is a *pang* and they all run off. I feel like a professional sprinter in the mornings.
My profession, my skills and goals
I'm working with law enforcement, and that is a steady goal I've planned since I was a little girl. You see, my father was a Detective working 24/7,
and I got so inspired from his work (he had his office at home) that I decided to become the top chief of the SimCity Police Department. This plan was badly damaged by the upside-down plague that struck Simmerville 6 months ago, and I lost my entire social network. Being a spokes sim might help to rebuild it. My number one skill is charisma, I was featured by a cartoon book and it really made me famous for a short while. Other than that I like to challenge my mind and to build my body.
Food, clothes and music
Food is a non interest of mine although I used to read some recipe books some years ago. Like I said the breakfast is just something I do on my way to work. I really don't like music a lot either, but if I listen to anything particular it would be latino. My husband plays the piano professionally, and he also often plays classical music which really do stress me, but living together is a little give and take, you know, and I must just make sure to take a little more than I give.
Clothing is interesting though! I am very much aware of my own appearance, I need to look smart and representative almost at any time. Even when I am at home and not working, I like to wear a skirt and a smart top or matching jacket, because after I was elected as Simmerville's spokes sim this May, there have been neighbours at our door almost daily. They all want to discuss their favourite community concerns, and I must be dressed in order to be a community representative on short notice. I know there are many smart everyday outfits that could work well, and I do wear smart trousers rarely, but I prefer my business skirts.
My interests and typical things to do
On a typical day I spend most of my time on working, then when I return back home at 3 PM, I spend some time studying, checking my financial investments and to make phone calls to the other Hood Council members. And you might find me playing the Simsalabim game in the study, or exercising next to the garden pool.
Whenever there is time I like to read a good book, or to relax in our outdoor hot tub. Even so I'm into money, politics, exercise and style. On the other hand I can't stand watching sports, food fanatism, romance and the ridiculous 60´s, and I'm allergic to most medicines. When your job is your interest numero uno, you really don't need lots of other interests. But I don't think other sims having other interests than mine are less worth or anything like that. Well, a little less interesting, perhaps.
My favourite room, my favourite item
This is a very difficult question, but I must admit that I like the study the best, and that the SimInvest item is my favourite. Well, I also like my beautiful old dresser, that I got after my great-great-grandmother.
My favourite community location
I must say I never really understood why sims flock to the Old Town locations. They represent nothing new, and can never bring the nation or any individuals forward. So I never go there unless I have to give a
speech. I'm also happy that our hood never opened up for building a Studio Town, because fame is a fake value and will last for a very short time. Besides all that superstar hysteria will necessarily attract more criminals to the hoods, too. I rather prefer the quiet and sophisticated hang out locations downtown, such as any expensive club or fashionable clothing store.
My typical evening/night
The nights come too early, I am normally surprised by them. I guess I am a B-sim that likes to sleep late in the mornings, and to stay up late at night which is possible only the night before a Family Day. But due to my work I must go to bed before midnight. I never find time to take a nap during the day, so I am often exhausted long before midnight. Some nights I do tuck in my girls, they are so innocent and quiet when they sleep, but still so smart - almost like their mother.
---

From the family album:
Photo 1: This photo was taken 9 years ago, showing my husband feeding our youngest daughter Sue, while I am dressed in my police uniform. Well, I'm glad I don't need to wear that uniform at work.
Photo 2: Spring 2003. Ever since I was elected Simmerville's spokes sim, there have been neighbours at our door. I feel that I ought to be seen outside the house talking with my daughters, but I must confess I have no plans of being seen petting our dog, which often barks at me!
Photo 3: A recent photo from my study. Here I like reading, checking the stock market, or playing Simsalabim. The room was actually meant to be a room for a 3rd child, but I'm happy with the computer, just as well.
Photo 4: My favourite community activity is to go downtown to buy lingerie or expensive formal wear. This photo is from a Family Day when my husband surprised me with a new dress.