July lectures: Food in the kitchen
July 3, 2003 - intro by Mrs Johanna Grumblin

Food Expo theme for July is "Food in the kitchen". This month all co-hosts will focus on the cooking routine and kitchen appliances, and more. Any home has a kitchen - so this theme ought to be interesting to all!

There are currently 3 lectures for this theme. You can still send me lectures from the Food Expo section.

There are also several nice kitchen items to be presented on the official Food Expo section (July).

I apologize for all the delays we have experienced this month, but Simmerville was without Internet's connection for nearly 2 weeks.

Accessories, Accessories, Accessories!
Let's get cooking!
Navigating a kitchen
Using a blender or not?

+ Several lectures posted at Food Expo co-host, Greymount





Accessories, Accessories, Accessories!
Lecture by Isabelle Ashfield, founder of the Sim Parade Cooking Club
II love to cook and when I cook I like my kitchen to look itís best. So today I am going to talk about kitchen accessories and how one little spice rack or painting can really set the mood for a kitchen and how it works.
In many kitchens a piece of art or a tin set is the starting point for a design. It might be a cheap piece of art or a beautiful vase anything can set the mood for your kitchen. And if your anything like me you want the kitchen to be perfect as you spend so much time in it!
I have five simple rules about how to chose your accessories and what you want in a mood setting piece of art or an accessory.

1. Chose something that reflects your taste. Itís your kitchen and it should look the way you want it to.

2. Make sure it blends in with your house theme. For instance donít have a pink kitchen and have a Mediterranean style house. Chose wisely as if you keep the one theme your house will have a huge impact.

3. Start small. Chose smaller accessories and work up. If a small thing doesnít match it is much cheaper than a big sculpture. It also means you can suit your house to a cheaper ornament and smaller things have more variety and character in my eyes!

4. Donít spend a fortune! Some accessories can cost only a few dollars. Focus your money on the bare necessities like ovens and fridges instead as a Chinese vase wonít fill you up!

5. And lastly you should shop around. On some websites you can download catalogues to purchase kitchen accessories and if you look around you can find some really good bargains. Sometimes you can download your items along with a set for your kitchen.

I hope you enjoyed my lecture and I hope that in the future we can all have beautiful kitchen that are all different and reflect the cook in the house. You can never have too many accessories!

Letís get cooking!
Lecture by Isabelle Ashfield, founder of the Sim Parade Cooking Club
I have always been a fan of home cooked meals and when I found out about the Food Expo I was over the moon! I love to cook the home way and with 4 kids and only one adult employed cooking at home was the cheapest and easiest way to go. Today I would like to talk to you abut myself and how home cooking can be fun and easy all the same time!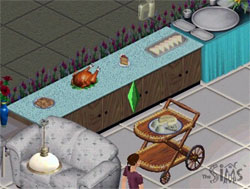 My name is Isabelle and I have 4 children called Rebecca, Shanae, Mathew and Charles. I also have my husband Craig and his girlfriend Antoinette living with us. We divorced but we still live in the same house. I find that cooking for 7 people is hard! I cook breakfast and dinner and a small lunch and all the meals have to be cooked in time for the bus and carpools! I am going to share with you one of my all time favourite secrets to having dinner ready at the right time!
Now on Thanksgiving I always order a turkey and for the kids birthday I always get a cake well I donít just order these things on holidays I order them once a week! You see the meal getís delivered to your door and it's much healthier than pizza and it's really well priced! You even get things like cakes and sandwiches delivered if you order from the right catalogue. My family all loves these meals and I can buy all different meals instead of cooking them, which gives me more time to be with the kids.
So in conclusion I just think that well mums don't all have to spend half the day in the kitchen when you can order it and get for the same price while yo have fun spending all the money you save at the mall!!

Navigating a kitchen
Lecture by Mrs Johanna Grumblin, Simmerville
In this lecture I'll give you some advise on how to make your kitchen even more efficient.
I usually say that a kitchen has a traffic zone and a work zone. The traffic zone is where household members and guests will walk to get to appliances in the room or to get to a door leading to another room. The work zone is where the stove, refrigerator/pantry, dish washer/sink and blender are located - normally where the counter is. If you have a dining table in the kitchen, it will normally be in the traffic zone or between the two zones.
When equipping a kitchen you should avoid placing appliances in the traffic zone. The coffee machine is the only exception.
Make sure you have some space in front of the counter, 2 tiles would be perfect. If there is only 1 tile in front of the counter, the passage will easily get blocked.
Avoid a lot of walking while preparing a meal! In some kitchens you will walk a lot because the appliances are not organized according to the cooking routine. My advise is to place the blender between the refrigerator/pantry and the stove. If you place the blender and the stove in a corner (approaching a corner counter) you won't need to walk at all, just turn around.
I hope this brief lecture was of any help.

Using a blender or not?
Lecture by Mrs Johanna Grumblin, Simmerville
When preparing a meal, you can either cut the food by hand, or use an electric food blender or food processor. If you don't do this you will not be able to cook your meal but will have to eat it directly from cans instead.
Is there any difference between food prepared by hand and food prepared in a blender?
Oh yes, there is. And even though I think that cutting a meal by hand is to keep an old tradition alive, I must admit that there are benefits from the automatic blenders.
You will save time - especially if the blender is strategically placed between the refrigerator and stove.
The meal will actually taste better and in theory your household will need to eat less.
The catch is that a blender will take up one tile of a kitchen surface. If you have a very tiny kitchen it might be far better to cut food by hand because after the food is cut, you can place the group meal on the same counter.
Unfortunately there are very few blenders available on the market. It is a surprise to me, but maybe it also signalizes that most sims still cut their food by hand?