My typical day: Elvira Appleton
April 13, 2003 - by Bimbo N. Loveless

A mature woman, believing in recycling and the unselfish involvement in helping other Sims. Together with her husband she recently reopened Maple Inn for ex-criminal youth. Meet Elvira Appleton, and see how artists supported her with personal clothing, art and wallpapers!

In this new series we will find out what is a normal day for one particular Sim. It is a mix of a celebrity interview and a way to get to know the variety of Sims' lives and personalities. A couple weeks before each article release, a handful artists will get to read the interview and will create a few personal outfits, wallpapers and eventually other household items to match the featured sim's personality and lifestyle. The first articles will feature Simmerville residents, but later on any Sim living in a SUN participating neighbourhood will be invited to apply to be featured in the "My typical day" series!

Elvira Appleton - an angel believing in a great heart
I must admit I never really noticed Mrs Appleton until someone suggested her for the "My Typical Day" series, and I did research for this article. She and her husband, Clive Appleton, moved to Simmerville several months ago, in order to reopen the lodging, Maple Inn, located on 77 Maple Street. I must also state that the Appletons and myself are living in two very different worlds. I mean, I am very cool and always updated on fashion and trends, while this couple seems to live in the 60's. I was not aware that such extremely idealistic Sims were living in SimCity, not to say my own neighbourhood. I'll shut up and let Mrs Elvira Appleton speak:

My past
I must start with saying that I am really surprised that you want to write about my typical day! I mean, I'm just an ordinary Sim, living an ordinary life and it's hard for me to understand how this can be of any interest to others.

- Was it Clive who suggested me? Or, one of the ex-criminals? Please tell!
- I really can't tell, Mrs Appleton, it's all confidential.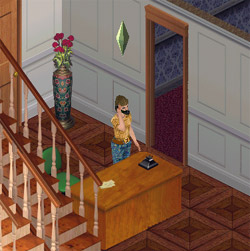 My past is not that special. I moved to Simmerville only 4 months ago, together with my dear husband, Clive. We have been married for 9 years, but still have no kids, so we like to spend ourselves on helping other, less fortunate Sims. We came here to run Maple Inn, which is a very special concept to both Clive and I, run by the 'Association for Unfairly Jailed Sims'. Our mission is to give a hand to young Sims who messed up life itself. The concept is to offer young ex-criminals to stay here while we help them to build a life away from the criminal track. They get a fully equipped home and all our support, while they give their paycheques to Maple Inn. The lodging has been closed for 1 year and the house was not used, don't ask me why. The house belongs to the organization since 9 years, when it was donated by Mr Ed Mervil, who I believe was a well known personality in this area. He donated the house for a period of 50 years, so I believe Clive and I can stay here for the rest of our lives if everything works out.
Every morning is a new possibility
I'm convinced that mornings are the most important hours of the day! If your plan is to mess up the entire day with nonsense, then it's perfect to oversleep, to skip breakfast and to be a passive viewer to your own life for hours before you get started. No! I prefer getting started before daylight, but I normally never get up before 6 AM.
This far we have no lodgers at Maple Inn, meaning Clive and I don't need to rush it in order to make life comfortable to others. After 9 years of marriage we can even do our separate things without mischief. Although we have no youth to look after, we need to work a lot, because when we moved in here we needed a huge bank loan, and just the daily mortgage is nearly §1000. So most of our days include working in order to pay back these loans. For the first weeks Clive spent all his time producing garden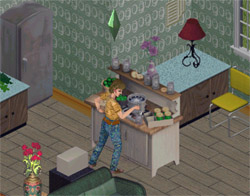 gnomes while I made preserves. Lately, I've spent less time at the canning station, and rather started contacting ex-criminals in order to make them move in here. I've been Downtown to establish contacts with a few, and I try to call them daily.
- Ms Loveless, I think this article might have been more interesting if we actually had some lodgers. Then you could have joined me for a full day at work.
- Well, I'm sure a few readers will find this interesting any way, Mrs Appleton, please go on... (yawn).
Oh, on this photo from my album you see me talking in the phone at the Maple Inn reception desk. Clive and I has a private section of the house, the two doors behind me, there. To stop guests from entering our private home, we simply place that vase next to the reception. This will be particularly useful in mornings when lodgers are hungry and otherwise will rush into our kitchen. There is a kitchen upstairs that is intended for the lodgers, but we have not decided yet whether I will prepare all food myself, or if we will allow lodgers to prepare their own food. We don't know their skills, you know, and the risk of fires scares me.
When we get lodgers, I will need to make sure to get up in time to make them breakfast, depending on when their carpool will arrive. Then I will need to make their beds and clean their bathroom and clean the breakfast table.
Running a lodging keeps you busy all day
I have been running a small hospital some years ago, so I know what kind of work there will be for me. But I really look forward to it, because it will mean helping others. Besides, these young sims will probably be on a social relocating program, bringing in some money, meaning this job will actually pay off, at least will Clive and I no longer need to worry about money to cover basic needs.
- Did that sound greedy, Ms Loveless? I didn't mean it in a greedy way, but you understand we can't do this with no income at all, do you?
- What? Aw, where? Sorry, what did you say?
- Were you asleep, Ms Loveless?!
- Sure, I mean of course not, Mrs Appleton. You are not greedy, please go on.
- Oh... well...
I normally take a break about noon, so does Clive. Then we watch some tv, or takes a nap if needed, all in order to be prepared for the next work schedule. We most often split the day into 3 work shifts, and if we need to do something else, like gardening or going Downtown, we skip one of the shifts for that reason. Like I've been to Downtown frequently to trace more young Sims who messed up life itself. That will be part of my job, for as long as we have a free bed to offer. Maple Inn has only 4 bedrooms for lodging, but the house is huge and we might be able to invite more than 4 Sims to stay here.
Food and clothes to be recycled
Both Clive and I are very eager concerning green politic, back to nature, and recycling whatever it's possible to recycle. You will not find many new items at Maple Inn. Some furniture are even very old, reminders from when the Mervils used this building as their main residence 100 years ago. There are also some furniture from when Maple Inn was run more than 1 year ago, and in addition to that Clive and I bought a lot of stuff at the flee market when we moved in. So you can say the interior is very mixed, and we don't see any reason to improve on that. Old furniture are often better handcraft and longer lasting quality than modern items that are sold in order to make money, rather than to last. I even suspect the modern industry to produce less quality on purpose, because then they secure an everlasting need of new products. Clive and I protest to that, no longer by marching the streets with banners, but in our silent way by buying only 2nd hand.
We also wear only 2nd hand clothes, and I must say I'm so happy for the new outfits by Gobelin Fashion, they are so nice! And so are the wallpapers from BB-design. You know it's very hard to find good 2nd hand wallpaper, but knowing she made those walls by simple techniques and less chemicals, does make a difference.
- Hey, why didn't Mr Gobelin attach a tag with Gobelin Fashion logo?
- He wasn't convinced that you would like it, Mrs Appleton.
- Well, now I'm not convinced that he wanted to be associated with these clothes...
When it comes to food, we never order a pizza or eat fast food Downtown, but we prepare all food from basic, making sure to avoid chemical ingredients, and making sure we never throw away any food. This does of course require good planning, and it's easier to operate in a large household. Yesterday's leftovers can easily be included in lunch or dinner of today. We do not grow our own vegetables though, but if time allows it, we will prefer to buy vegetables in Old Town instead of buying ordinary food that you will find in most refrigerators.
Each evening should include at least one pleasure

Clive and I normally get exhausted before 9PM. Especially these days while we work so hard to pay those bank loans. This means that our 3rd work shift might be reduced or skipped, and instead we have a quiet dinner, or Clive even plays the old white piano. Or we play the pool game while we listen to some music.
- If you ever become a criminal, Ms Loveless, you would be welcome to stay at Maple Inn!
- Oh, thank you very much, Mrs Appleton.
Lately I've invited a couple ex-criminals for dinner every day, in order to get better acquainted, and to build relations to their class, so to speak. You know, if one criminal likes Maple Inn, it will soon spread to other criminals.
I like to go to bed at 11 PM, but occasionally I've collapsed before 10 PM.
I'd like to take this opportunity to inviting all ex-criminal Sims out there to contact us at Maple Inn, just call #48 06, or stop by at 77 Maple Street, Simmerville.

---

Photo top: Elvira Appleton uses the phone in Maple Inn's reception to establish a good contact with future lodgers.
Photo mid page: Elvira making preserves in their private section of the huge house.
Photo bottom: Elvira and Clive Appleton often invite ex-criminal youth for dinner.