Pets - the new trend of SimCity!
September 9, 2002 - by Bimbo Nobrain Loveless

New pet stores are popping up all over SimCity, and Sim kids will be begging for dogs and cats. Thanx to the new shuttle bus system the new generation pets is within reach! I had to break into the pet store to find out more!
Get prepared for one of the biggest challenges Sim parents have ever met. For how long will you be able to resist your youngster's wish of getting a pet? Kids crying and refusing to study for school might become even worse than bringing a noisy, wild animal into your neat home - it most likely will pee on your expensive living room rug and break the vase that is the only memory left after Aunt Brynhilda.
Many Sim households are already experienced with various pets, but we know how primitive most of those creatures were; mainly eating, sleeping and making a mess all over before they starved to death.
Well, I decided to visit one of the new pet stores located in old town.
Greeted by Mr Pet Trainer
Bad luck; when I arrived old town the store was closed! Through the window I could see an uniformed man walking about in there, shouting and exercising by waving his arm for his own pleasure it seemed,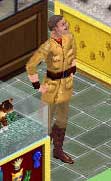 without noticing me desperately knocking on the window. It must have been my lucky day after all, because when I walked to the back of the shop, I found that one of the windows was not properly closed, allowing me to climb through it. I fell down onto a pile of boxes in a tiny storage room, and the following noise and me screaming made the waving man stop shouting. It was all quiet, but I was at least inside the pet store!
- What was that? Hello? Anyone in there? FIFO? Kittie-kittie-kittie?!!!
The door was opened, and the shouting man wearing a safari uniform was standing there. Now I realized he was nobody but the pet trainer himself!
- Good after noon, Mr pet trainer! I must have looked rather strange, laying there in the heap of boxes, although I tried to straighten my hair, and noticing my make-up matching the boxes sort of made my day.
Mr pet trainer walked closer. - Stand up! Stand up! He shouted again, as I got back on my feet, explaining to him that I was visiting from Simmerville Web, wanting to write about the new pet store.
- Congratulations, the new concept seems great! How's business going this far?
- Well, the shop has not officially opened yet, so you better check back in a couple weeks. Now; shake hand!
I took his hand and greeted him. He swung his whip up in the air, making a terrible smacking sound, while I tried to look cool (which of course was quite easy). He understood I wasn't any ordinary burglar, and invited me into the store. The room was nice but far from ready, a lot of boxes was lined up along the wall, and two cheap chairs placed in a corner, hopefully temporarily. No animals yet, but some animal toys were put on the shelves.
- Sit!!! Siiit!
Of course I did just that - sit down in one of those ugly plastic chairs.
Available pets

The new pet store chain, now under establishment in old town, brings out a new generation of animals. Cats and dogs in particularly will now be integrated with the Sim households in a new way, more or less as a new family member.
I asked Mr pet trainer to tell me about the animals.
- Sure... animals, pets! In the pet stores you will be able to purchase animals like cats, dogs, parrots, lovebirds, parakeets, turtles, iguanas, lizards and fish. There will be over a dozen breeds of cats and of dogs, including dalmatians, beagles, French bulldogs, spaniels, rotweillers, labs, greyhounds and German shepherds.
- And you and other pet trainers will do just what?

- We offer to train your dogs and cats for a small fee. We are convinced that many families would like our assistance, because it can be a tough job to train a puppy or kitten to do the right stuff, not peeing on the floor, not eating the plants or not breaking valuable indoor decoratives. We use the traditional rewards and punishment system which you also can do at home, but with our experience the pets will learn much quicker than if they should be trained at home, especially for all fresh pet owners.
We talk about how to improve the pet's personality. We can of course also train them to do certain tricks, which some pet owners will love in order to participate to the local pet show here in old town. In general your pet will behave better if it's well trained, and it might be easier for it to build relations towards pets of it's own race, too.
Equipment and toys for your pet
In the pet store you can not only buy the pets themselves, but also a variety of equipment for a pet friendly home. The pet trainer shows me the assortment of toys and other equipment.
- After all, if you plan to include a pet to your household, wouldn't it be natural to build a room for it, or at least let the dog or cat have it's own corner of the living room? he asks, and although I have no intention of letting any pet into my trendy home, I must admit that a pet should feel welcome if first purchased. Mr pet trainer now shows me the boxes which include pet stuff not yet unpacked.
- In the pet stores in old town you can get food bowls, scratching posts, catnip, dog beds, toys and treats for your pet. There are also the doghouses, pet baths and pet gyms that can be ordered directly from your local catalogues.
I try to imagine how families all over SimCity will go mad about the dogs and cats, and all the other creatures. Will they forget about their own children? Will they redecorate their living room with doggy wallpapers, and replace their valuable paintings with award ribbons from the local pet show? Will the SimCity Radio start playing "Pet Shop Boys" and "Daddy , I want a doggy"? Will kids stay home from school every other day to spoil their new pets while their parents are at work? Will clothing fashion this Autumn bring dalmatian patterns?
Mr pet trainer is getting ready to leave the building and my exclusive visit is about to end. So when will we be able to buy our first trained dog?
- The first shops will open on September 24th, and then we will expand for months to come. We will not be able to cover all SimCity neighbourhoods with our services, but perhaps half of them.
- Is Simmerville on your list?
He is pulling a notebook out from his jacket pocket, looking it up.
- Yes, Simmerville is on the list, but I'm sorry that your old town will have to wait about 10 weeks or so. Then I will personally train your dog, Miss Loveless. Just give me a call!