Art for Art's Sake - an introduction
August 7, 2002 - by Bimbo Nobrain Loveless

6 months ago, Simmerville artist Chrisander Beartop announced his gallery to come, we waited eagerly for his work to compile. Today he releases some of it - guess what will be the new trend for wall decor in Simmerville!

I've been able to follow Chrisander's production closely for some time, as I was modelling for a couple of his works. He didn't ask just anyone to be a model, but he naturally asked me. Since I moved to Simmerville 8 months ago, I've occasionally been passing the artist's home, as he lives just across SimmerLane. On their terrace he has been painting a few hours daily, to improve his skills and techniques, and to let his creativity flow, as he state it.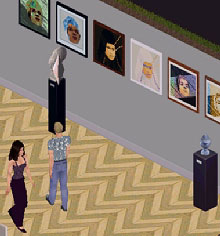 - It's been a long run, Chrisander?
Of course it has, and I still have a long way to go. Being an artist is not like any regular job where you work from 9AM to 3PM, and reaches a certain job position that you are satisfied with. Artists, at least I, must work when the inspiration comes, and there will never come a day when I reach my goals, it's a never-ending journey.
- Could anyone become an artist?
Absolutely not! You need the certain feel and emotion, and of course a talent when it comes to techniques. Everyone can paint, but not necessarily express feelings that others can catch by viewing your work.
- From walking pass your house I know you have painted a lot - yo; once we even waved to each other, you remember?
No, I can't remember that particular occasion, I most certainly scared some flies because I never look at the road while concentrating. That's why the terrace is seen from the road only if you climb a tree or walk into our garden. When I work my focus always is within my heart and mind, and not anywhere else. But you are right, it takes a lot of time. I've mostly used lycra and oil on canvas, but also worked some with various mechanical art techniques which can be done quicker, but still results in many pictures that I am not pleased with at all.
- You have now released 7 of your works, and I am modelling for 2 of those. How come you used local models? Do I have something special you think can appeal to the art?
No, it's a practical matter. Like you said, it takes many days to complete one picture. For each final product perhaps 50 were destroyed. When using local models it's easier to bring them over to my studio on short notice, and Bimbo, I must compliment you for being at my door only 10 minutes after each of my calls.
- Oh, no problem, Chrisander! Not at all. Final question; which of the two The Mask versions is your favourite?

I should say both, but actually I don't like them very much, they hardly made it to my STUFF section, hopefully you have placed them far down on the page. Except from "Opera Grande" which I worked on for 5 months, I definitely prefer Mirror Thought to The Mask because the model expressing something sensible which I believe I have managed to pass on to the viewer.
Simmerville's perhaps finest artist (sorry BB) is gay and lives since many years with his partner, another famous Simmerville resident, the athlete superstar, Andrew Beartop. They adopted a girl some years ago, and these days they have adopted yet a baby, which will keep the artist busy for a while, but hopefully bring more inspiration into this artist's emotional heart, as soon as the baby watches are done.
His artist signature is Chris JB, and you should keep an eye on his future works too, and do visit his new gallery for regularly replaced exhibitions.
Thank you, Chris JB.
And if YOU want to have a look at Chris' first items, and perhaps get some of them for your own home, check out Art for Art's Sake's own section here.