Getting minimal with BB-design
February 28, 2002 - by Bimbo Nobrain Loveless

She started out as a popcorn girl, today she opens her own home business, BB-design. Wearing long frocks and a red ribbon in her hair, this colourful woman wants to redecorate your home. She will no longer be selling popcorn, but creating wallpapers for Sims all over Sim City.

- Everyone has a creative talent, she says. - Some colours and a minimum of inspiration is all you need, but to open your own business naturally takes some planning, too. It's not something you do the next morning.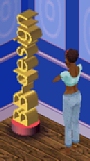 Bitchy la Beth Hanssen knows what she is talking about. She has been planning to establish BB-design for a long time, and now the dream is coming through as she finally can open her own studio, built next to her family's house. For years she has been taking care of their home while her well known actor, Jonathan Hanssen, has been the one bringing home the finances. After their daughter started school, Bitchy la Beth spent hours in their beautiful garden, painting. She discovered how easy it was to create something.
- One needs to get passionate and personal. Stop wondering what everybody else will be thinking of your work. If you like it, that is what counts. For wallpapers, I realize that it's no point in releasing designs which nobody will care for, after all it would be hard to get into business if there's no buyers, but in the start I allow myself not to think a lot about how popular my production will get. After all, my fridge and ability of paying bills will not be depending on BB-design. And, if I should create wallpapers in order to please as many SimCity homes as possible, I would have to match the already existing interior trends, instead of creating something new.
So what kind of wallpapers can we expect from BB-design?
- I plan for a simple but yet original and rather individual design. For example, my first series is very minimalistic, not because I can't do any better, but because I found the existing wallpaper industry lacks calm and anonymous alternatives. A good wallpaper should not drag away attention
from the room's interior, but rather make your exclusive sofa stand out. Also, I will produce several patterns that can be combined - bringing out the artist in everyone when one will be able to use one rather minimal base, with a couple slightly more decorative alternatives for variation here and there. Mixing one or more wallpapers in the same room can make wonders!
You are still keeping your household and looking after your daughter after school, and at nights you often need to give parties to please your husband's many friends and contacts. Will there be enough spare time for your business?
- I don't worry at all about that. A lot of the creative process happens when I do anything but work in my studio, I can grow ideas and come up with original concepts no matter where I am or who I'm with. I must admit I work best when I can spend a full day alone in my studio, and often I can. In the long run I think it would be realistic to release a new serie of 3 or 4 patterns monthly, and rather take a break from it all for periods.
Thank you, Bitchy la Beth Hanssen.
And if YOU want to check out BB-design's first production, BB-design have it's own section here.