Magical Food
September 7, 2004 - by Isabelle Ashfield

Iím sure by now many Sims have heard about the uprising of magic in our communities. It was late last year when Sims started showing that they were magic. Since then magic has expanded to many sim communities. Well itís not all about the spell, those magic Sims also brought new food to our communities and today Iíll talk a bit about some of them.

Elderberries and Grapes
Do you remember having one of your motherís homemade Elderberry pies or homemade wine? Well now we can enjoy them today and make them ourselves. We can grow our own elderberries and grapes or be can buy them. Unlike vegetables we grow at home the elderberry and grape vines just keep on growing! We can squish some of the berries and add some sugar to make wine or bake elderberries in a pie, in a special bakers oven.

Butter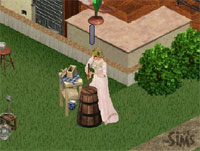 Not only can we now bake our own pies and pastries we can even churn our own butter at home. But if we donít want to use it to bake we can sell it too! I love making my own butter and using it in my cakes and pies.
Also butter fetches a good price when you sell it, and since I am a chef and I have lots of cooking points I make the best butter around. Churning butter is quite simple as when you buy the machine it comes with
instructions.
Honey

Mmm I love this sweet ingredient. When you have collected the honey from the hives you can either sell it or store it. Also you get beeswax, which I sell.
I love using honey in the wine or on some bread. But my
kidís favourite part is the space suit you get free with every bee keeping kit. They laugh at me! It looks really funny!
Baking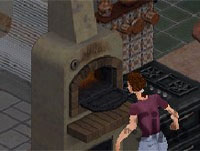 Baking is one of the things I like best to do. I love the smell of freshly cooked bread and the taste of elderberry pies! I love baking in the morning because a fresh loaf of bread of a plain cake is breakfast I know the whole family will eat and itís so quick and easy.
Itís also quite cheap to bake because if you make the butter yourself
you only have to pay for the baking mix. Also the baking oven isnít as expensive as some other ovens on the market.
Career in magical food?
Ever thought of a career in making butter, nectar or even honey? Well you can! All it takes is the right equipment. You donít even need cooking points but the more you have the higher the price you will get. This is a great career for someone who wants to get into the culinary industry as it builds you cooking points as you work.
Also itís great for parents of kids and new-borns who need to be home sometimes.
Iím sure youíll have learned something about magical food today and I hope it comes in handy, maybe for a possible career. It might be a little magical but itís still food and I love it!
Photo1: Jessic