Food Expo 2004
July 29, 2004 - by Isabelle Ashfield

This year the food expo has moved from Simmerville and is now being hosted this August in Greymount. Greymount's website will be chocka-block full of everything a sim has to know about food. So to get the inside scoop I talked to the organiser himself Mr Matt Grayson, President of the Food Expo Committee.

I: So Matt what sort of activities can we expect to be at the food expo this year?

M: Wow, tons! Lectures about food and Simmish traditions, contests for food items and lots of opportunities to meet with other families that love food! Also you could find love! My son met his wife at last year's Food Expo.
We're adding a national contest for Mr/Ms Food Expo, which is sure to be a great event. We're still talking with contractors regarding prizes, but there will be a year supply of Farmer Bob's Toxic as well as their photo published and a future article with the winners. I won the local contest last year and it has been great, I've helped founded the local food club as well as the gardening club as a result.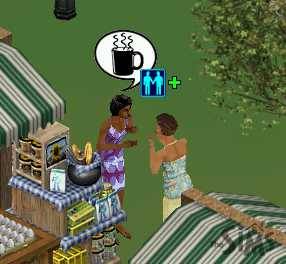 This year's topics
I: Oh my goodness, that sounds like a lot of stuff. So what's the topic this year, because last year there were three?
M: Well, we felt that the topics really were what Simmish food was all about-they are broad enough to have TONS of things that fall under them, yet precise enough to narrow the field of lectures. The only difference this year is that the Food Expo is only for one month, but the same three topics will be explored in lectures across SimNation. We're still considering highlighting a particular dish and discussing its origins, so that's an opportunity for others to get involved if they want to research the origins of dishes.
I: Oh, that sounds cool! So Matt how can Sims get involved this year?
M: Easy! Sign up to co-host the Food Expo in your hood! Help plan your local Food Expo! Sign up to give a lecture, which can be published on your hood's website or the host, Greymount's, website. Sign up for Mr/Ms Food Expo! Submit items for the contests! Be a judge for the contests! Everyone can help; it's ridiculous how much one can do!
I: Well Sim Parade is already a co-host. We're really looking forward to the expo. But Matt this year, you know, with all that magic around won't things be different?
M: Yeah it will but mostly in terms of the food contests. We expect more recipes and items submitted for the food contest as well as additional entertainment. We're considering hiring magicians for the children for the local expo, and maybe holding another Food Expo location in Magic Town, but the largest difference will be the nectar and new baking items.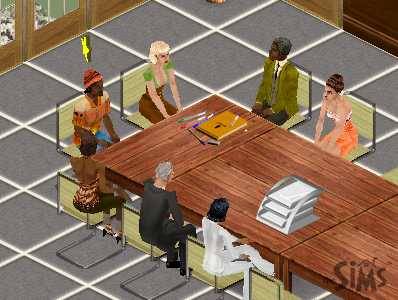 Greymount website
I: Yeah, I love that nectar and baking! So since Greymount's hosting the expo what will be on their website?
M: We're publishing the lectures online-but also we're accepting lectures from co-hosts or other Sims that have lectures concerning any of the topics for the Food Expo. We plan on sending a representative to visit other local Food Expos and getting reports of what's happening there.
I: Wow! Thanks Matt for the interview and I can't wait to get started with Sim Parade contribution to the expo!
So that was our interview with Matt Grayson. I hope it helped you get started on things for the expo in your hood. For heaps more information on what your hood can do and information about the expo go to Greymount web or look in the food section of Simmerville web.

Photo1: Jessica Pierce and Rachel Dawson, both of the Food Expo Committee, visiting the Food Expo site and discussing the additions that needed to be made.
Photo 2: Hood Council (Toby Kent-President, Starr Grey-FAME Rep/SpokesSim, Norah Wallace-Community Director, Leigh Sweeny-Financial Director, Alisa Crawston-Pet Rep, Bryant Pierce-Family Rep) listening as I, Matt Grayson-Food Expo Committee President-presented the plans for the Food Expo.