Where have all the flowers gone?
May 11, 2004 - by Bimbo Nobrain Loveless

It's spring! All over Sim Nation the gardens are once again bursting with beautiful flower decorations, trees and shrubs, or at least that would be any owner's wish. If you don't have a good touch with your garden, it's time to hire a gardener!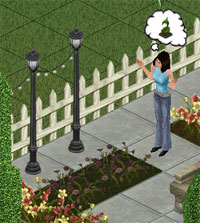 About a month ago, the snow left my garden and even if I'm not very interested in the outdoors myself, I can tell whether the garden is hidden under white snow or if the flowers and trees make it look like a mixture of all the colours in the world. So, I looked out through my window just to realize that none of the flowers had survived the Winter!
If you care for a beautiful garden I have a great tip for you: Simply pick up the phone and hire a pro handsome gardener stud! Well, at least I did. I called SimCity Gardeners. Mainly because I want my neighbours to be impressed with my garden, but I also wanted to find out more about one of SimCity's most popular service providers and other sims' gardens. I put on some cool makeup and looked my best. And the very next day he arrived, at 9:30 AM - sharp.
- Hello Gardener - ouch, you are female!
- That's a correct observation, Ms... NL? Now! Where are those creepy little helpless flowers of yours? There, lovely garden, could have been...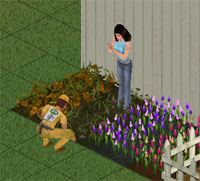 She looked around very quickly and headed over to the garden section on the backside of my trendy house. I walked very quickly to match her tempo on my new cool Bochi-Lochi shoes that had never been stepping on dead flowers before. There's a first time for everything!
- So, Gardener, will they survive? Do they look worse than other sims' flowers?
- I would work better if you moved out of my way, she replied.
So, I moved. And so did she, because before my trendy Bochi-Lochi'es had moved and I had answered my cell phone, the Gardener was done replanting those flowers and had moved on to the next plot. I was amazed with her tempo.
- I'm impressed, you work really fast, I complemented her. - I'm a journalist, I'd would like to ask u a few questions. Okay?
Silence means no objections.
- Okay, cool. Well, what do you think of the gardens here in the Simmerville area? Are they ok?
- I think they look more or less the same as elsewhere. Most households forget about the outdoors. You have two categories actually, those with just one plant next to their entrance, and those with a full patio with garden statues and a swimming pool. The latter group is a pain in the... garden, they consume all my time. It's fine working in the same garden all day because I won't need to travel as much, but no - it's not only about gardening, you see Ms NL! They think I'm capable of fixing about anything! Parasols, grills, garden fences... you name it!
- Oh! Is that so! My neighbours abusing you in a way? Hm, that doesn't sound good. I hope it's none of my friends!
- Ja ja, it's not typical for Simmerville. It happens all over the region. I travel a lot. I've been everywhere, you name it!
I was quite upset and decided to make a difference in the right direction. I hurried inside to mix her a drink. A Double Green Drumdrum, my speciality! But she blew me away!
- Hah, what do ya think? I have work to do! If you did care better for your garden I would have time to join you for a drink, but look at this place! The worst garden I saw today!
A little later she was done with the outdoor area. She walked into my trendy living room with her boots on, leaving bad footprints on the floor.
- Any flowers inside the house, Ms NL? Where are they?
- Oh, that's cool, I mean all that mud on the floor. I'll tell you something, if you give me a hand with the piano I'll not bother with the dirt. Just need to switch the piano with that lamp, and I can't move it alone. Thanx, ok, it's heavy but u are a strong woman. Yaaaaaay, there! That's it!
- See what I mean? the Gardener asked, and I noticed a not so enthusiastic tone in her voice. I figured what she meant, though, that the piano looked a lot better on its new position. And I just nodded because it was my plan after all.
- So, could you give Simmerville web's readers some gardening tips? What do most sims do wrong?
- Ah, well, most sims keep plants just anywhere. In their bedroom which is not good for those sims, and in dark rooms with no windows, which is not good on the plants. Some plants tullips along their garden fence which means I must walk a lot to water them all. Flowers that are grouped are less time consuming. Plant more shrubs, less flowers. Let your kids water the plants and my job will be less expensive. Always keep some cash cause I hate walking into sims' homes taking some espresso machine because they can't pay me! And while being indoor, some keep that dangerous meet eating plant on their kitchen counter - I even heard of a sim being eaten alive by such a plant! But do they ever learn? Nooo...
- There are no plants in my kitchen, Gardener! U see, I did the right thing - ha! Oh, but hey, my baking oven doesn't work properly, you got some tools handy? Could u just check it for me, please?
- So ya think I'm a repairman? I'm not! Oh, what the... oven... it's no big deal... here... see, you got a new model with a children protection, here, you just need to flip and press this button to make it work.
- Ah, cool, now I'm ready to make some cool food in my trendy oven, thanx a bunch!
I guided her to the few plants in the living room, she told me most plants need watering every 3rd day, something I normally forget. Then I just remembered, the hot tub! It was in the next room.
- Gardener, u got a nice water can there, and I don't, so do you think u could do me a favour. U see, I got this fancy hot tub, but it could do with some more water. The bathroom sink is near by, so if u just... perhaps 10 full watering cans?
I could not read her face clearly, her eyes were tighter, and she almost turned... red. Oh no, was that a sign of sexual attraction? She found me attractive? Well, no surprise really, but I found I better leave her alone filling up my hot tub. I'm not into that kind of thing. Espresso and trendy hunks is more my style! I walked out into the garden to enjoy her work.
Ten minutes later she was done and as she did a final check on my garden, I praised her work and said I would recommend her services to all our readers. So if you like green side of life but lack green fingers, then make a call to hire the regional Gardener. She is worth every single Simoleon!
[Oh, I almost forgot. That night when I was going to bed the bed was soaking wet! I never quite figured what happened, and I never talked to my house mate, Jim, about it either. He might have got the wrong idea... I guess I will never get to know... ]