Burger or Bouillabaisse?
January 8, 2004 - by guest writer Isabelle Ashfield

Isabelle Ashfield of Sim Parade is one of the clever food enthusiasts who contributed with lectures for the Food Expo 2003. Now she is back with a new series of food related articles. Today she suggests food for your dating experience.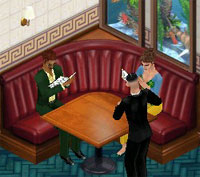 When on a date food can be everything. If your going to a restaurant should you treat you date to a luxurious dinner at a posh restaurant or go to your local burger place? If your puzzled at which is best for your dating experience I'm going to make life much easier for you! Listen to my two pieces of advise and then you decide!
Burgers
Burgers and Burger Huts are a cheap and relaxed date. It also means if your date is a nightmare you haven't had to spend a fortune on them!! No, no no, that's not the reason! Its a fun environment, which mainly attracts younger couples and people on a budget. Restaurants with themes like the 60's or Colour World!
The food isn't the best quality but the price is right. When there you should eat two or three courses if you like the person but if you don't one course will do. You can also by from the street stands which sell hot dogs and shrimp.
Bouillabaisse
Eat at a fine French restaurant is a way to treat your loved ones with some class and romance. Lavishing your date in a luxurious restaurant is a great way to show how much you care about your date. Women are the main lovers of this expensive experience and love to know that their date is spending so much money on them. Fancy restaurants are also very romantic and you can have dessert at your date's house!
The food at these restaurants is the best quality around and because it's cooked by the best chefs you know you're getting extremely good food. I once worked at Sim Parade's finest restaurant called "Le Delicious" as their chief chef. When I worked there I had to guaranty the customers the best food myself and my team of chef's could make.