Simmerville residents that are looking for a new house can contact me to make a deal. The local tariffs that might not apply to other hoods is currently §500 per 1000 sq.ft. One meeting with me is included per §500. Please use the money transfer set to pay me (available here). Sims living elsewhere must follow local rules.
On this site I will announce available houses in Simmerville. As soon as any local family moves into a vacant house, it will naturally be withdrawn from this list. The Simmerville Mega Starter house listed in the left side column will always be available even if taken, because it is a standard that might be available for even more addresses this Fall. New houses will be added as they get empty, or if I design anything new on request.
Most of the houses come without paint and wallpapers.



Related articles:
A home to enjoy
November 15, 2003
New building restrictions
July 25, 2003



Click here to get a full size copy of the SimLOOK house!



---------------------------
NOTE: THIS PAGE IS PART OF THE OLD (TS1) SIMMERVILLE SITE. ALL OUR DOWNLOADS (BOTH TS1 AND TS2) ARE NOW LINKED FROM SHOPPING AT THE NEW SITE.

Due to switch of servers in the past, some download links appeare to be broken. But the downloads are still there, you just need to replace the filename extension from .zip to .ZIP
---------------------------

---

Temporary offer: You can now live like some well known Simmervillians used to live in TS1
(Unleashed is required, most interior will be missing)


New March 29, 2005:
Bimbo NL's first Simmerville home


Address: 10
Back in TS1 Ms Bimbi O'Brian (aka Bimbo NL) shared this house with a school friend. This house was not found cool enough to be rebuilt in TS2.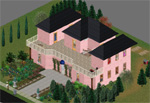 New March 29, 2005:
Mrs Swim's house


Address: 79
This used to be the TS1 home of local baby expert Ursull Swims. Her TS2 home was based on this layout, but has recently been modified.


New March 29, 2005:
Beartop residence


Address: 80
This house was famous Simmerville artist Chris JB's home in Oldtown, TS2. His partner died but in TS2 Mr Beartop got a new partner and adopted a 3rd child. Their house is a modified copy of the TS1 version.


New March 29, 2005:
Hornsby residence


Address: 9
This is the old home of Sven Hornsby, known from the Mazaloom Historical Society. His new TS2 residence is only partly based on the old layout.


---

New April 29, 2004:
Small Farm House

Address: 67
Area: 1161 sq.ft.
Cost: §12.648
Stories: 1
Equipped: Yes
A very tiny house suitable to a small family or a single sim. Two bedrooms where of one is behind the kitchen and with entrance to thegrapes. 2 bedrooms (one large one small), small kitchen, small living room, hall and a good sized bath room. All on only 1161 square feet! A very good choice for a temporary home for young sims or older sims in need of less space.


---

New December 17, 2003:
AstroLOVE house

Address: 55
Area: xxxx sq.ft.
Cost: §xx.xxx
Stories: 1
Equipped: Yes
Known from the ongoing AstroLOVE project by Sims Science. Go to the project's home page to get a guided tour and a shopping list. You will also find many pictures from this house in the daily reports linked from that site.


---

New November 24:
Mega Starter

Address: 67
Area: 2133 sq.ft.
Cost: §11.499
Stories: 2
Equipped: No
Simmerville Mega Starter is a popular standard house since early 2002, now available to all starter families in need of a proper house to less cost. Compact layout with small rooms gives you 8 rooms + terrace on 2140 sq.ft. Please see left side column of this page for more about the Mega Starter.


---

New October 21:
Middle Magnetza

Address: 3
Area: 3060 sq.ft.
Cost: §18.643
Stories: 1
Equipped: No
Out of the city, into the green countryside! This small house with just 2 bedrooms is a perfect home for sims who like to control the garden plants. Hey tree, come back!
1st story: Livingroom/kitchen, 2 bedrooms, bathroom, hall.
Facilities: Nice garden with possibilities. Between the house and the garden there is a full length and 2-tiles wide walkway with a free view to the garden (on picture; behind the house).


---

New September 12:
Salmon Rapzody

Address: 57 [sold]
Area: 4239 sq.ft.
Cost: §16.983
Stories: 2
Equipped: No
This pretty residence was planned for a family with 2 kids, but it should not cause any problem at all if the family gets bigger. The house plan was actually based on a circus manege, but after removing one wall on first story, you could hardly tell, but it might still be interesting to know. The house was also planned with custom windows and doors, but you will need to do any such modifications yourself. External walls are salmon stucco, while there is no internal wallpaper at all.
1st story: Large livingroom, kitchen, diningroom, study, wc.
2nd story: 3 bedrooms, bath, large hallway, terrace.
Facilities: Nice garden with possibilities.


---

New August 31:
Buenito Manchito

Address: 5
Area: 4410 sq.ft.
Cost: §31.354
Stories: 2
Equipped: Partly
A 2 story house located away from the traffic noise. Many rooms, and many possibilities for an extended garden.
1st story: Hall, 2 livingrooms, kitchen, study, wc.
2nd story: 5 bedrooms, bath, large hallway, terrace.
Facilities: Swimming pool, 2 fire places.


---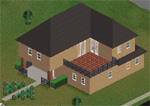 New August 31:
Regular Home
Address: 7
Area: 4473 sq.ft.
Cost: §19.013
Stories: 2
Equipped: No
A regular home on two stories with all the rooms you need. Can serve as a nice home for a family with 2 or 3 kids, but not suitable to starters hence the cost. Well sized rooms.
1st story: large hall, 1 small bathroom, study, kitchen, dining room, living room.
2nd story: 1 large bedroom, 2 smaller bedrooms, large bathroom, hallway and a corner terrace with a great view to several of your neighbours.
Facilities: Garden might need some improvement, but it comes with a fairly nicely decorated path, so you will not be in a hurry.


---

VillaTuttogrande
Address: 2
Area: 6273 sq.ft.
Cost: §40.946
Stories: 2
Equipped: No
The perfect residence to a romantic, ambitious and - wealthy family. House contains of 1 main building that is connected by 2nd story bridges to 2 smaller buildings. One of the smaller builds is suitable to servants or farmers staying with the household. The builds includes 6-8 bedrooms, they can of course also serve as study, resting room etc.
Main build: 1st story is just one huge room which would suit fine for huge dinners and parties. 2 stairs leading to the 2nd story which offers 1 huge hallway, 2 smaller corner rooms, and a nice balcony. From the hallway you can access the bridges to the 2nd story of the 2 smaller builds.
Small build A: 1st story gives 1 ordinary room with access to 2 smaller bedrooms suitable for children. 2nd story which can only be accessed from the bridge contains of 1 small hall, 1 bathroom and 1 large bedroom with access to a balcony.
Small build B: 1st story is meant for servants and workers; 1 large kitchen, 2 bedrooms for cook/farmer/teacher, and 1 small bathroom. 2nd story is a mirrored copy of small build A including one small hall, 1 bathroom and a large bedroom with access to a balcony.
Facilities: A very nice castle garden fronting the street, while the more quiet parts behind the house includes a small swimming pool.


---

Vulcan House

Address: 6
Area: 4032 sq.ft.
Cost: §22.364
Stories: 2
Equipped: No

As you walk into the yard which is the heart of this house, you will understand why some sims feel a cosy Old Town atmosphere and countryside romance here. A most interesting layout as most of the 1st story rooms can be accessed from the centre yard, and the 2nd story rooms from the large and winding terrace. If you are a scientist doing research on the local Vulcan, you might need the many rooms for your work or for a Souvenir Shop or even a Vulcan Café - although this is not a community build. This house will be a nice home to a full family, as there are 6 rooms than can be used as bedrooms.
1st story: 2 living rooms, kitchen, bathroom, 2 ordinary rooms.
2nd story: 4 rooms of different sizes, if all serve as bedrooms you might like one of them to be rebuilt as a bathroom. Upstairs you will also find the terrace which is quite unique with a great view down into the Vulcan.
Facilities: Don't be scared just because this house is built on the edge of a Vulcan, although there has been some vibrations in the ground lately, it's been 240 years since this Vulcan showed its muscles. The house was built on the request by a Vulcan lover and scientist, but he just disappeared and the house is now available!


---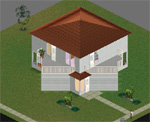 Dream Diagonal

Address: 9
Area: 3897 sq.ft.
Cost: §22.102
Stories: 2
Equipped: Yes

A must see original house as the first and second stories are horizontally skewed. It causes interesting rooms with a challenge for the interior. The house is partly equipped.
1st story: small hall, living room, kitchen, study and guest bathroom.
2nd story: 3 bedrooms, 1 bathroom, hallway and 2 balconies. The balconies can be accessed from the largest bedroom and the hallway.
Facilities: A modern garden is an open green lawn with very poor vegetation and no need for a gardener.


---

Ordinary Quarter

Address: 8
Area: 3654 sq.ft.
Cost: §46.028
Stories: 1
Equipped: Yes

A nice 1 storied house that is suitable for a couple, but with a total of 8 rooms there are naturally possibilities of adding one more bedroom. The nice symmetrically layout will help you and your partner through the day. The beautiful garden has access to Sim River. The house is fully equipped as the former owners suddenly died... moved.
1st story: large hall, 1 bathroom, 1 bedroom, kitchen, dining room, study, 2 living rooms. House comes with pool game, piano and plasma TV.
Facilities: A nicely planted garden with a mixture of flowers and shrubs. The Sim River is approaching the garden.


---