Simmerville Hood administration :x: Households

Return to Households index Today is local simday

6 Test Lane

This house is was new on simday 46 as it replaces the old and smallest house at Test Lane, the historical first testsim house (see below). The new house is a new small house to be let for less costs. It's just one floor and contain kitchen, living/dining, bathroom and 3 small bedrooms. The greatest improvement is the new garden that is nothing exclusive but sets a new standard here at Test Lane.

Just like the other houses at Test Lane this house is property of Simmerville Hood. It's let to residents for daily rent, and Test Lane therefore has got a rather low status reputation.


Recent Households

9. (67-): Ronnie Moulino
8. (46-): Dean Simpley
7. (45-45): Damoe Montpellier
6. (c-44): Boppe Montpellier
5. (b-c): Butterfly Snakespeare
4. (z-b): Butterfly Swims (from 9 New Simmer Lane)
3. (y-z): Arvid Brybrey (from Slemmon Heights, to 7 Old Simmer Lane)
2. (x-y): Arthur Ferrelli (testsim, to 1 Cabbage Road)
1. (1-x): John Gamming (testsim, to 2 New Simmer Lane)


Recent Owners

1. (1-): Simmerville Hood


History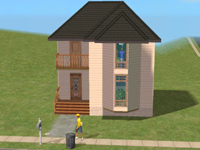 This lot is historical. The Test Lane is too, because it was here those first testsims moved in to test the TS2. On this particular lot the very first testsims resided when checking if the hood was safe for other residents to move in. They were John Gamming and Arthur Ferrelli who won the first SimLOOK project back in TS1.

A few simdays later one of Simmerville web's webmasters was born here, Emilda Glitz. Her household moved on shortly. Also scientist Claire Brybrey lived here for a while. Lately this house was the location for a tragedy as this is where dead Gary Snakespeare scared his wife Butterfly Swims to death, leaving 3 children behind. Both ghosts are still here.

On local simday 46 the old house was replaced with a new series of small houses to be let for cheap.