Simmerville Hood administration :x: Households

Return to Households index Today is local simday

11 New Simmer Lane, Simpley Technology, Inc.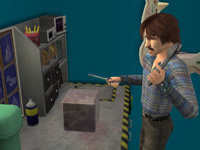 Opening hours: Mon-Tue-Wed-Thu-Fri 9AM-5PM

Automatic assistants in your home! We offer all kinds of robots from toys to servos. If it's shiny, intelligent and friendly you probably got it from Simpley Technology!



Staff



News

See Simmerville Stock Exchange for financial news and press releases.

Simday 70: One of the 2 founders, Dean Simpley, sold half of his stocks, resulting in owning only 25% of the company. This leaves Brawn Simpley in sole charge with Simpley Technology. A few days earlier Brawn Simpley introduced the first servo seen in Simmerville, Robobob, who will assist in the store.


Recent Owners

3. (71-): Brawn Simpley (50%), Dean Simpley (25%), Simoleons Invest, Inc. (25%)
2. (x-70): Brawn Simpley (50%) & Dean Simpley (50%)
1. (x-x): Brawn Simpley & Dean Simpley


History