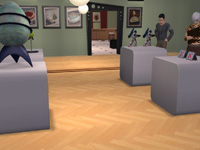 TV productions - Portraits - Studio Shop - Studio Bar
Opening hours: Wed-Thu-Fri-Sat-Sun 3PM-11PM.
Entrance fee: none
Download our productions here!
* Have your personal portrait taken in our studio! Make an appointment with us and we will invite you over to have a photo taken and framed. You can choose among many backgrounds, and we can even add minor adjustments for no additional costs. A framed photo taken by our manager costs §500 and will be given to you right after the session.
* Shop art and gifts in our Studio Shop! Selling photos by our hired artists, as well as art from the catalog.
* Hang out in Studio Bar! You might see some of the stars who work with us! Note the wall art showing Simmerville's top 5 sims! In Summer the Studio Bar will offer outdoor seating.