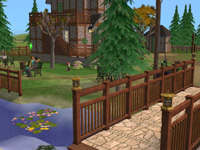 Trad Toys

Opening hours: 9AM - 5PM, Mondays closed

History, peace, romance. This old lodger is a remainder fromour common past. Long before the TS2 revolution hunters used to live here while hunting forest dragons, wild chicken and rats. Today this is one of the hood's most popular recreation scenes, and it's not hard to see why. Lovely nature, peaceful environment, exciting architecture and a nice bridge. Take your family playing games or grill your own food.

A small store, "Trad Toys" opened on simday 50.