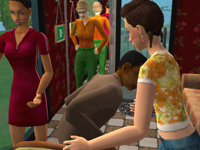 Bonnie's Beauty Salon



Opening hours: Sat 12AM to 8PM, weekdays 6PM-9PM by request
Cost level: Average

I offer full makeovers in my tiny salon. I can't promise a top result, but I'm not expensive! If I'm not in the salon, I'll just be busy doing something in the house - just sit down and I'll be back soon!

For downloadable makeup products and general tips check out the Bonnie's Beauty Shop.




News:
Simday 90: Bonnie's Beauty Salon has closed as the owner has partnered with the owner of Ma'Zalon at Grease Avenue, SimCity, and works there. Bonnie's might be open on demand so if you like a make over, call Helene Montpellier to make a reservation.