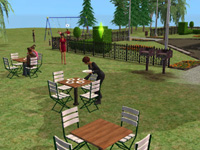 Opening hours: Wed-Thu-Fri-Sat-Sun 12AM-8PM
Entrance fee: Reasonable

Simmerville's largest park is a natural place to visit for the entire family including pets! Take a stroll, enjoy a BBQ, take a swim or assist the children using the swings! The location also offers outdoor chess, mary-go-round, toilets and a couple more facilities depending on the season.

This lot was one of the very first community lots of the modern Simmerville, named after Andrew Beartop - one of the 4 locals who gave their lives back in the flat world fighting the aliens. Andrew Beartop was a famous athlete and we want this park to offer physical activities.