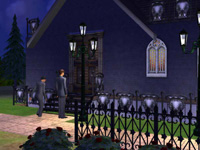 Mervil Mausoleum is the very old and quiet home of Mervil family members of the past. You are welcome to visit, but please bring only one child at the time.

When you enter the mausoleum, be aware of the old saying: "When you walk through a door, never look back". You will enter the main room, where the most important members of the Mervil family are resting. Note the stone flooring inscription: "On here, thu death. Mervil be bourn. Mervil be death. You shall find Peace." *) Other family members' graves can be found in the dark crypt in the cellar.

*) Translation: "In this room only sims who started and ended their lives as Mervils, can rest.

Opening hours: 24/7

Mervil family members: To place a new grave here, contact the owner and prepare to pay §250.