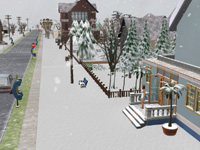 Feel the rhythm! Scope the room! Do the smustle!
Opening hours: Fri-Sat-Sun 6PM-2AM, Wed-Thu 3PM-11PM.
Entrance charge: Not to bad
I'm your hostess, Bimbina Motoflame. Welcome to my trendy club concept, Club Cornell. You will first enter the coffee shop, my grandmother, Bimbo NL, who was the first owner of this establishment was an espresso addict. The room is kept in a continental style. Have a seat and talk the night away, or just lean back and observe. I serve a meal most nights. Then there is a club section open Fri-Sat-Sun only, offering a nice dance floor, lounges and a bar. This is where the jetset prefers hanging out. Anyone is welcome to stop by, but if someone taps your shoulder and asks you to leave it might be because not everyone found their right place.