My typical day: Gail Soong
September 29, 2003 - by Bimbo N. Loveless

Females from all over Sim Nation were suggested for the "My Typical Day" article, but we decided to go for a real man! He is both a hard working military man, and a loving family man - check out a typical day of Mr Gail Soong from Dramaville! Artists are welcome to match his day with suitable items!

In this series we like to find out about sims' typical day. Not the day you got married or the day you retired, but any day in between. Artists all over Sim Nation are welcome to send in any item (clothes, walls, furniture etc) they think would match with the featured sim's lifestyle and tastes, based on this article. Artists sharing their work will be allowed to post their favourite link, and we do also pay §250 per item that is publicized!

In this article you will meet Mr Gail Soong. He was surprised to have been suggested, and he still don't know who suggested him for the article. He is married to the spokes sim of his neighbourhood, Dramaville, meaning most dramavillians most likely know him pretty well. He received a list with some questions about his typical day:
---
My introduction
My name is Gail Soon. I am a 36 year old commander in the army. I have a wife named Cari (34), a daughter Carolina (10), and a son John (7), and a dead daughter named Emma. She died two years ago in a fire when I was away on business. Emma was three years old at the time. I met my wife Cari in France during my first tour of duty. We got married and our first daughter, Carolina, was born in Paris a year later. After she was born we moved back to Dramaville and have been there every since.
My home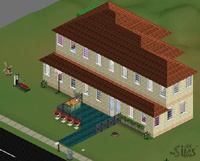 Our house is done in a very french theme so that my wife Cari doesn't get homesick. It is a very practical two stories with the bedrooms on the second stories and the study and kitchen in the first floor. my favorite room is the study. I spend most of my nights reading books or studying with my children in it. I love the bookcase. I got it in Tokyo four years ago during a family vacation.
My typical morning
My morning starts early. I wake up at five to work out for about an hour.
Then I shower and get ready. By the time I'm ready to go my wife has a
wonderful breakfast of crepes (I know I spelled that wrong. French is a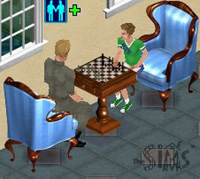 hard language to spell in!) prepared. We have some family time at the table, but then the kids have to go. I spend the time before my carpool arives to talk to my wife. When the car arives I'm out the door to go serve my country!
My typical working hours
Right now I'm an army commander. The hours are long and hard, but I
wouldn't trade it for the world. I have to keep up all of my skills, the army
needs people who are well rounded. But if I had to put priority on one or two, I would have to say that mechanical and logic are cruital. You need to have brains before bronze! I hope to eventually become a general in the army. And right now it looks like that is within my grasp.
My typical dinner
I usually come home too late for dinner with the family. In fact, I
usually eat right before I go to bed so I can spend the time I have at home with my wife and children. I love to liston to Carolina play the piano, and I'm teacing John how to play chess. I occasionally challenge Cari in a game, but her logic exceeds mine so I rarely win.
Community

I enjoy taking Carolina and John to the park. Sometimes the three of us take a day off so that we can just spend the time together and become closer. My good friend Frank Yeager sometimes comes with us, Frank works with me so most of our fratinizing is done on the job. To improve the neiborhood I would put more parks in. There are only two in Dramaville, and sometimes I wish that I could take my kids to something other then the same old place.
My typical night
At night I spend time with my two children. But after they go to bed I
enjoy sharpeing up my mechanical and logic skills. I sometimes play the piano, but I don't do it often because it could wake somebody up. I tend to read right before bed. Usually a good fiction or mystery to keep me on my toes. My motto is "Never Lose Hope."
From the family album:
Photo 1: The first picture is of our house.
Photo 2: The second is of John and I playing Chess.
Photo 3: The third picture is me listening to Carolina.

---
Upcoming "My typical day" articles might feature a sim from your neighbourhood! Go to the TREND main page to suggest a sim for a future article.
---