The pioneers at SUN Family Exchange
March 24, 2003 - by Bimbo NL

3 months ago SUN invited brave and curious Sims to break new ground by joining their new SUN Family Exchange program. Learn more about how those pioneers did, and how you can visit another neighbourhood for a limited time.

Some sims are way too busy with their day to day life - eating, working, watching tv and talking about the weather. The rest of us like to live a little wider and shine a little brighter, and one way to add more to your Sim life, is to move to another SUN neighbourhood for a while, switching homes with another globetrotter from that hood. 3 months ago most Sims shoke their head when they heard about this totally new way of travelling, but today the SUN Family Exchange have proven to us that this is perfectly safe - let's hear from the hosting neighbourhoods!

I asked the participating neighbourhoods' spokes persons a few questions, and here you can read their answers. The neighbourhoods are Simkeep (represented by Sinagod McTavish), Sim Gardens (by the Sim Gardens Council) and Simmerset (by Robert Tysen Martin). Also Tackett Street (formerly known as Tackett District) is participating to this program, but due to technical matters they were not able to get back in time for this article.


Who were involved in your exchange, and when did it take place?

Simmerset: Christopher Martin from Simmerset and Chuck Hart from Tackett District. The exchange between our two neighborhoods occurred in early January and our two neighborhoods were the first to participate in the exchange program.

Simkeep: Carmella Amado from our principality and Jeannie Walker from Sim Gardens. The exchange took place on January 30 which is when Jeannie arrived in Simkeep. Jeannie is the neighbourhood spokeswoman for Sim Gardens, and we feel very privileged to have her come and visit us. Carmella is in the medical profession, and she has receive one promotion since her stay in Sim Gardens.

Sim Gardens: Our neighborhood spokesperson, Jeannie Walker went to visit Simkeep and they sent Carmella Amado to us.


How did you plan the exchange in advance? How did it happen that your neighbourhood became one of the first to contribute to this new program?

Sim Gardens: We listed Jeannie on the exchange site, and got a couple of inquiries from different neighborhoods. The neighborhood Council settled on the exchange with Simkeep.
Simkeep: We contacted Jeannie after seeing her ad on the SUN Exchange. We also had posted an ad on the exchange about wanting to participate in the program. We had some correspondence back and forth and then we both contacted Mr. Martin from the SUN Exchange program. Both ladies made their trips with no problems.
Simmerset: My brother George Phillip is our neighborhood spokesperson, but since he is also handling the SUN exchange program, he delegated the authority for the Simmerset program to me. Tackett District originally wanted to have the Sandoval family participate in the exchange program, but of the known possibilities, there was not a large enough exchange home available at the time, so Chuck Hart volunteered to go from Tackett District. It seemed that since we also had a single adventurous sim ready to travel in the person of Christopher Martin that this would be a good exchange. So Chris went to live in Tackett District and Chuck came to Simmerset.

How would you say the new resident was received by the host hood sims?
Sim Gardens: Carmella Amado was very well received here in Sim Gardens. She is a very amiable young lady and gets on really well with all of the neighbors. She made five friends within a few days of her arrival. We have enjoyed having Carmella visit us.
Simkeep: Jeannie was received here a new friend and neighbour. We were all happy to make her acquaintance and show her our principality. She visited MacRinn's Pub in our downtown district, and a party was hosted for her at the residence of the royal family. She has become a skilled archer since her arrival, and we often see her at Simkeep Park on the archery range.
Simmerset: Chuck Hart was very well received by the hood. He was greeted by my brother George and myself, and also later on his first day in the neighborhood by Mayor Betty Mackenzie. Chuck through a party after he got a chance to rest after his trip and many Simmerset residents were there. There were two friends that he made at the party, my sister, Melissa and a local farmer, Shawn. He has a few other friends in the neighborhood, but his strongest relationship is with those two. Chuck is romantically involved with Melissa and he was present at Shawn's marriage to Mary Hake.

How was the hosting role?
Simkeep: Playing the role of a host neighbourhood is a very rewarding experience. It is great being able to host a lady who came from somewhere else other than here. I mean she spent all her formative years in Sim Gardens, and we enjoy showing her what Simkeep is like, and for her to get to know our friendly neighbours.
Simmerset: I would say that the hosting role is really great. It is really special to be a host neighborhood, and Chuck Hart really fits into our community. Chuck has gotten two job promotions while here in Simmerset and made several friends. I am happy to count myself as one of them. My sister who had not been dating anyone seems to have been swept off her feet by our visitor. If it progresses further I may be saying good-bye not only to our exchange sim but to my sister. That is a bit bittersweet.

Has there been a satisfying contact with the sim(s) who travelled to another neighbourhood? When will she/he/they return - if ever?
Sim Gardens: Carmella will return to Simkeep in April. A number of the neighbors invited her to old town so she could visit the many interesting places that old town offers. She enjoyed visiting our pet adoption center and playing with the cats they have for adoption. She also took a vacation at a ski resort on Vacation Island.
Simmerset: Well, yes there has been very satisfying contact with Chuck Hart. I believe that the agreed term of three months was made before the exchange so I expect that maybe in April they might be returning to their neighbornoods, but that will be up to the visitors and both neighborhood councils.
Simkeep: Yes. I think I may have answered this question in my previous answer. We are very happy with the contact. Jeannie is scheduled to return to her neighbourhood in April. We will certainly miss her when she returns. Since she is their spokeswoman she will probably want to go back.

Will your neighbourhood be interested in participating to this once more in the future? Any recommendations to other hoods who are thinking about participating?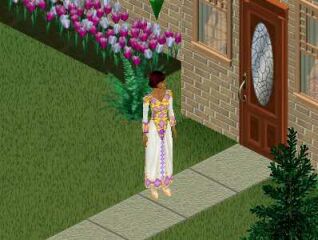 Sim Gardens: The SUN Family Exchange program is a wonderful experience. I think the best part is finding out more about another neighborhood through the contact established, entertaining our visitor, and finding out how Jeannie is doing in Simkeep. We have received several pictures from Jeannie and follow her progress very closely. The newsletter is also a very good addition because we can also follow what's gong on with other exchange programs.
Sim Gardens as a neighborhood has been going through some difficult and trying times with the upside down head plague, and it has been hotly debated in our council whether to return to our old simpler way of living, but since Carmella came to us with a pet, we have put off the decision about what to do. It is our desire to complete our participation in the program before making this decision. The exchange program is what has kept our spirits up here in Sim Gardens and has been a ray of sunshine during dark times. We hope to participate again sometime, even if we return to our old ways. We have received a great deal of encouragement and support from Jeannie's host neighborhood and others.
Simmerset: Yes we would definitely be interested in participating in the future. We all feel this has been a rewarding experience. My brother, George has recently informed me that there is a language barrier in the exchange and sims have to restrict their travel to same language neighborhoods, or customs will not allow them to enter.
Simkeep: Yes, we are looking to host another Sim as part of the SUN Family Exchange program. Our recommendation for other neighbourhoods is go for it! Find a neighbourhood you want to visit and get in touch with them. Put an ad on the exchange like we did, and maybe someone will contact you. It really brings you into contact with the other neighbourhood, because you have to plan for the exchange.
I think that neighborhood visitation probably takes place easier between same language communities. So one thing you need to find out is if the neighbourhood has the same language. They should also be in an approximate area of expansion as your own. For instance you cannot send a family with a pet to a neighbourhood that has not passed the pet ordinance and expanded into Old Town.


Related:
Wanting new neighbours for Christmas?

Photo1: Jeannie Walker of Sim Gardens with the Royal Family of Simkeep.
Photo2: Chuck Hart of Tackett District playing pool with Melissa Martin at Lake Barrett in Simmerset.
Photo3: Carmella Amado of Simkeep in front of Jeannie Walker's home in Sim Gardens.