SUN member #001: Simmerville
Updated on February 14, 2002 - by Simbille Ballong

The Simmerville neighbourhood is home to 32 Sims, still counting. Here, quite far away from the centre of SimCity, we build our houses, dreams and friendships.

Simmerville is a rather small and newly established neighbourhood. The fact that we are located far out from the city centre doesn't mean we are a bunch of countryside addicted Sims with no sense for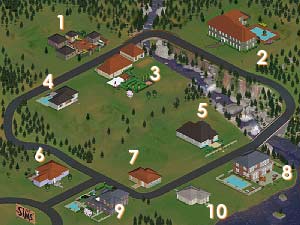 trends and fashion at all. Some of our residents can even be considered real celebrities - at least in our closest area. And now many of us have gathered behind one concern: Unite SimCity neighbourhoods!
Read the full presentation on Simmerville's web page.