SUN Olympics - let's go for Gold!
August 26, 2004 - by Anthony Troy, Simborough

Are you into Basketball, Volleyball or FuSball, or other sports? Get ready for the chance of your lifetime, attend the SUN Olympics! The games are due to start on Monday the 6th of September, and your local athletes are expected to participate!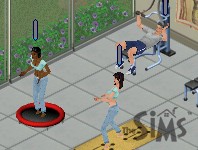 Hello, and welcome to the SUN Olympics 2004. Here is the chance that your sporty sims have been waiting for... a chance to test their skills against Sim Nation and to win medals for their hoods. 9 distinct sports have been chosen for this years events including Free Style Sky Dive, VolleyBall & FusBall.

Prepare for the SUN Olympics
The most important thing for hoods to be doing now, as the Olympics are scheduled for early September, is to not only choose their team but to also start vigerous training programs. Below is a list of requirements set out by the 2004 SUN Olympic Panel, headed by Celia Hammond:

Each team member must be in a sports/military or X-treme career
Each member must have at least 6sports interest
Each member must have at least 5 skill points (in any catergory)
Hoods must also choose their contestants with care and heed by the following to make sure that they have every success in the games. Hoods can decide how large (or small) their national sports teams are. However a hood must abide by certain rules to be able to enter the Olympics.
One sport per athletes - many athletes per hood
If a hood desires to have contestants in ALL sports then the team must consist of 9males and 9 females as a sim cannot enter into more than one sport. For example a sim may play in both singles and doubles of FuSball but cannot play singles FuSball and singles Basketball. This would then allow the hood to enter every singles catergory but more sims would obviously be needed for the doubles and quads. You don't have to have a team which competes in every catergory though. For example your hood may decide to dedicate yourself to VolleyBall, FuSball and Swimming and enter all the available catergories in these three sports.
In addition hoods may have more than one sim individual in a sport..up to 3. This means that Simborough could have 3 female individuals all competing for the VolleyBall singles title. However where doubles and quads are concerned each hood may only have 1 team.
This means that the minimum team no, so as to enter ALL sports and ALL catergories would be a total of 28sims.
Simborough spoke to Chairwomen Celia Hammond about the event:
"I think it is especially important at this time to take some of the focus off of the convertion and to remember that, even as 2dimensional sims, we are a strong and powerful nation. These games have been derived to give sports sims a chance to show their talents and for the rest of us to watch in awe. We must remember that come conversion we will lose some of our neighbourhoods and correspondance with some hoods, in particular Greymount, will become increasingly difficult. Remember...go out there and win medals for your hood!!"

Fore more information please contact Celia Hammond at or visit the SUN Olympics web site.

Photo: Simborough's team is starting to train.