SUN - your shining neighbourhood network
August 22, 2004 - by Simbille Ballong, SUN web

600 Sim neighbourhoods have registered with the SUN since it was opened Spring 2002. Of these are still about 150 hoods registered with the SUN network as of today. The network is now facing some interesting upgrades.

The great changes of our future will affect the SUN registry and its web presentation as well. But the SUN [Sims United Neighbourhoods] will keep shining!

Less details - more information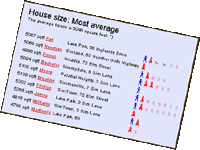 The registry will be less detailed but much more up to date. Today a hood can register detailed information on each household, but with ageing residents this kind of information will get outdated way too quickly. The household details will be taken out of the registry this September, and instead there will be more general facts on the neighbourhood. There will still be room for a lot of information, but it will all be easier to maintain also for the member.
SUN will cover both old fashioned (TS1) and futuristic hoods (TS2). If a hood converted to the future dimension you will be able to tell from their SUN page. Just like we always posted a hood's facilities, such as Downtown, Vacation resorts, Old Town and Magic Town. Hoods with absolutely no expansions are still welcome to join the SUN.
Fewer details per hood will mean that web maintenance will be less time consuming, and there is a chance that all submissions will be handled within 7 days, like originally intended.

Top10 lists
Did you know that the average household has been living in the same address for 34 days, their house is 5040 square feet, they have a daily income of § 840 and a net worth of §209861?
Today you can check the greatest, smallest and the most average households when it comes to net worth, number of days, daily income and house size. Go to the SUN page to find out more!
The coming changes will of course also affect the current top 10 lists. No longer collecting household details means no more Top10 lists. The top10 lists will be taken out but there will be other statistics instead.

SUN members will get updated information
The new SUN registry is expected to take effect this September/October. The current register will remain accessible while we wait. If your hood is not yet a SUN member, you can still register. It's worth noticing that we no longer add or update household information.
When the new system is sorted out, all registered SUN members will receive a mail with info on where to register their new information. It will be like a census covering all the hoods, and which will enrichen the community greatly with knowledge about Sim Nation.
Registered SUN member will have to reregister using a new form to renew their SUN membership. Anyone not replying will not be added to the new system.
If your hood is already registered but has not received any mail from SUN in a very long time, it might be smart to check that your contact information is not outdated.

The SUN Core meets the new challenges

Here's a brief interview with Mrs Carla Niven Johnson, who was leading the previous SUN Core.
There is a new SUN Core these days? Who are they?
The new SUN Core members are:
Carla Niven – Palatial Heights
Tish McDowell – Lake Park
Juliana Valentino – Simmerville
James Landgrabb – Mount Landgrabb
Erika Blake – Mayfair Plaza
Sharron Granger – Krum
Starr Grey – Greymount

How do you think the new dimension will affect the SUN?
I think it will better the SUN community and make it more interesting, especially with the age process where we will get to grow old with our friends and see our children grow up faster. I find the whole aging process very interesting.

The ageing will force through some changes. How about the SUN Core? What happens if all core members die of old age before the time they were elected for is up?
We haven't worked out this detail yet. The new Core is still pretty new and with it being summer some of the members are on vacation. I think we will discuss having a shorter term for the SUN Core, perhaps 3 months instead of 6, but don't have a sure answer yet as we haven't discussed it on the Core thus far.

Please share some of the subjects the SUN Core will be focusing on for the next 6 months.
Security is one of the major issues that has been discussed for a while now. Also we would like to moderate the boards better and get the SUN community more involved in events hosted by the SUN Core.